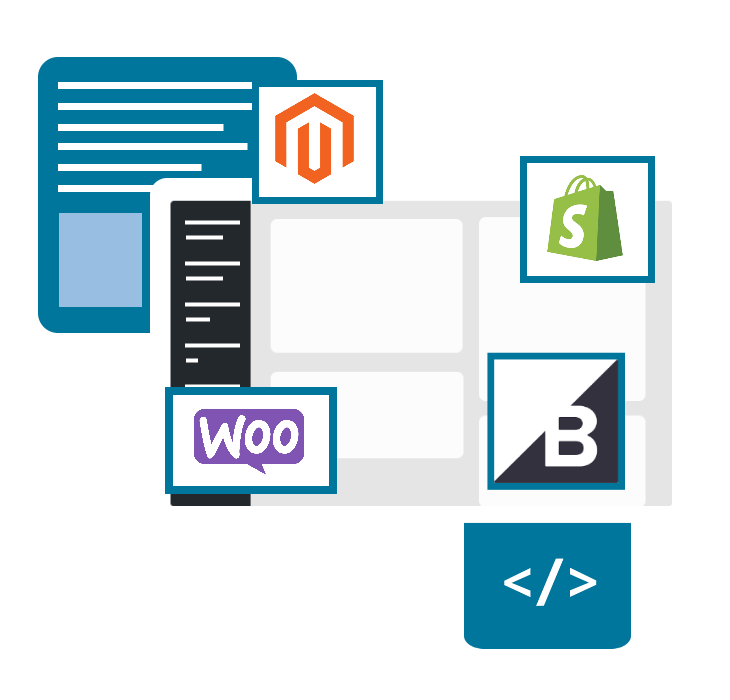 Platform & App Integrations
At OPMC, we engage in communication building and smooth integrations between third-party applications and platform-specific ecommerce business solutions. Our wealth of experience working with everything from accounting to security has empowered us to offer bespoke integrations for any need.
We create bridge integrations that allow an app to successfully communicate with Shopify, BigCommerce, WooCommerce, and Magento.
Third-Party Ecommerce Integrations
We build solutions that integrate with your business's website and front/back-office capabilities. The goal is to create an integration that helps your business run efficiently and frees up resources for more critical needs. This includes line-of-business applications like CRM, ERP, accounting, security, authentication, and more.
Our development team will use innovative techniques that allow these third-party applications to communicate with your internal systems and unique online platform. An excellent example of this would be our Xero for Business integration, which works with WooCommerce. This ecommerce platform already allows for tracking sales, inventory, and other critical factors of your business operations, but with our third-party integration, all of those details are automatically transmitted over to Xero accounting. Solutions like this create a powerful new feature for clients who wish for an all-in-one method of tracking details that are automatically updated in the background of operations.
WooCommerce Ninja Forms is another example where we are able to leverage additional form options from a powerful system. This enables greater customizable control, and product add-ons shop owners appreciate.
Creating custom integrations like these is not for our clients. Many of our ideas began from our own needs. We are a successful online business specializing in ecommerce plugin and app integrations and development. As such, we build and test out these ideas through our own business structure to ensure they are efficient, reliable, and seamless with any of the big ecommerce platforms, including Magento, BigCommerce, WooCommerce, and Shopify.
Ready to build your own custom third-party integration?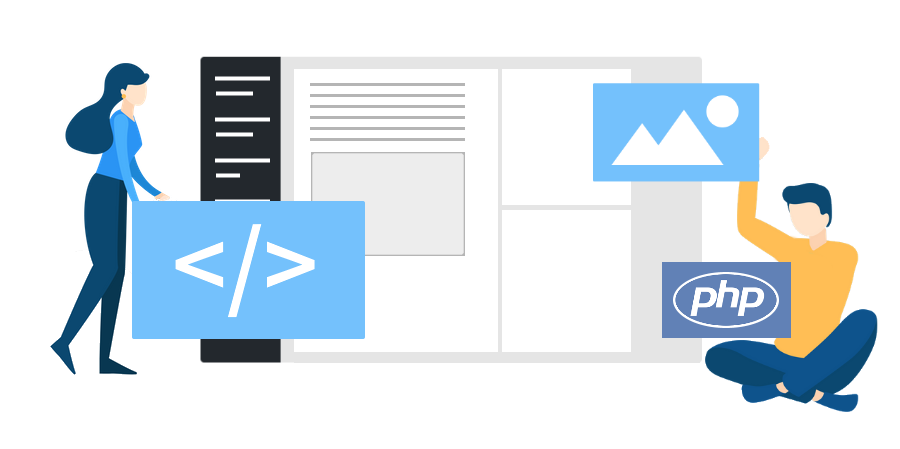 Custom App Integration Solutions
Many of the ecommerce plugin and app development companies available online spread their resources across web development, SEO, marketing, and many other disciplines. At OPMC, we focus on custom app development and integration services. We have realized over our years of doing business with clients of all sizes worldwide that the best solutions are often way outside the cookie-cutter formats clients wish to avoid.
Your business has key functions specific to your processes and the goals you wish to build for future sales. That is why you may need a custom integration for the best outcome. We work hard to address all your needs with integrations that work with third-party apps to optimize processes and adapt to new systems.
We are your one-stop shop for specialty apps that integrate data across third-party systems, devices, and other sources. The more we can help you automate this communication, the better your solution will be.
When we are able to develop an integration that has been executed and delivered to a high standard, it makes it easier for that team to deploy across multiple platforms. Much of our success as a company comes from a quality experience with one platform. This eventually leads to other deployments because clients feel more secure with our exceptional results, lowering risks for future projects.
We have also worked with listed companies requiring ecommerce integrations of their products. With one NASDAQ-listed client, we were tasked with integrating a newly developed client API that was an improvement on a previous version. Our team had such great success during the WooCommerce solution that the client was happy to request cross-platform support for Shopify, Magento, and BigCommerce during the rollout.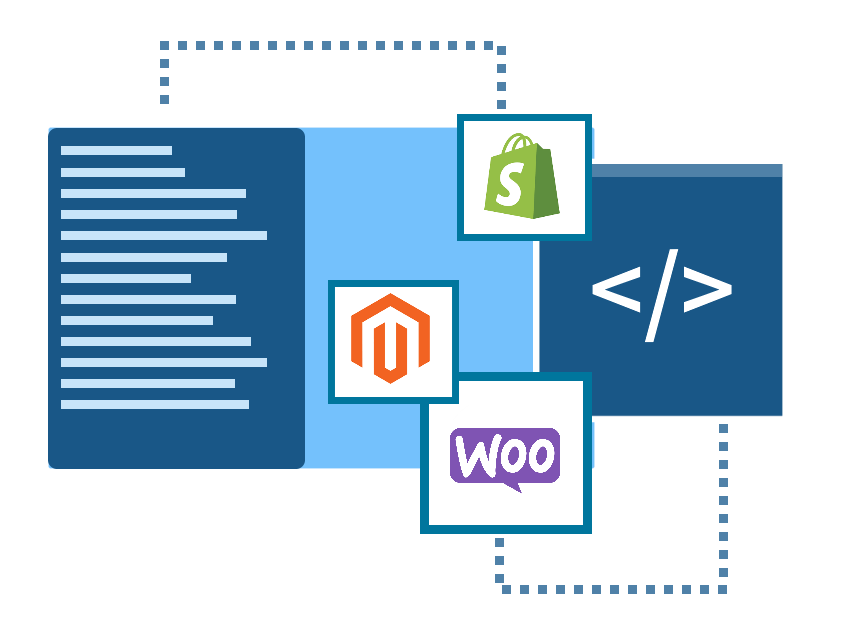 Multi-Platform Support
OPMC primarily works with the big four ecommerce platforms, including Shopify, Magento, WooCommerce, and BigCommerce. We are happy to build new custom integrations between third-party apps and these platforms for any need you may have. If you would like a better idea of some of our successful projects, please take a look at:
Our team has experience working with everyone from new startups in Australia to NASDAQ-listed clients from around the globe. For us, the joy of tackling a new challenge designed for a specific purpose and business model is part of the reason we got into this business. We thrive on building unique plugins and app integrations that leverage our creativity and technical skills.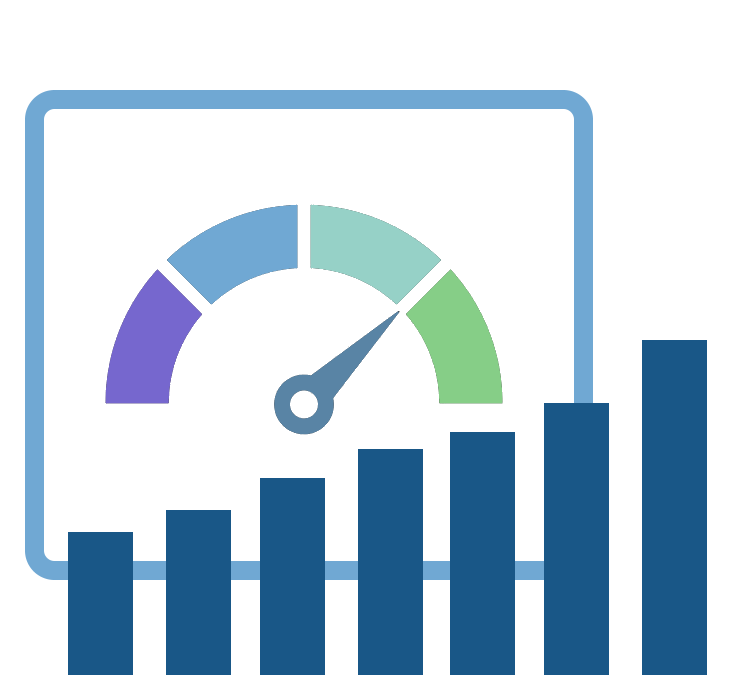 Reach Peak Performance
All our custom app and plugin integrations are designed to boost performance in the related field. Maybe you wish to build a product catalog integration that distributes your eCommerce listings across multiple marketplaces or an ERP solution that improves cross-department collaboration with remote and hybrid workers. Whatever your need, we can build an integration that unites business processes and communicates smoothly with the leading ecommerce platforms.
At the end of the day, it is all about enhancing automation through efficient services and integrations. The more streamlined and automated we can make your processes, the better your competitive advantage in today's fast-paced marketplace.
Start building a new integration today!
OPMC is proud to offer our integration services to clients who need a brand new solution from scratch or have already started the process and need more bespoke help. We have many businesses that reach out after spending time and money in a failed partnership and are looking for a more reliable provider with the expertise to get the job done right.
We focus on those integrations that propel a third-party app into a functional benefit for you, your business, and your offerings to future clients. Give us a call today or schedule a consultation with our development team and experience the difference at OPMC!