Overview
Dropshipping is now one of the most intriguing eCommerce fulfilment technique that is attractive to many people globally. There are two major reasons; there's no hefty investment and you can sell without ever touching the product. However, this is not something new it is the online version of brokerage or a middleman. Yet, many technicalities and concerns need to be addressed to make a good online presence of a dropshipping business. Many online platforms entertain dropshipping because their sales have risen excessively by the effort of these super marketers known as dropshippers. As dropshippers are not involved in physical processes like packaging and delivery, they invest most of the time on marketing strategies to generate potential customers.
Why dropship from AliExpress?
For the dropshippers worldwide AliExpress is the best and free sourcing platform where one can find hundreds of thousands of products and niches. Every day, many new products are uploaded on AliExpress by the sellers at rattling low prices, which are potential new niches to many entrepreneurs worldwide. AliExpress' dropshipping is simple, easy, and low risk for new eCommerce entrepreneurs. That's why it's a great temptation.
Why a Plugin is Inevitable for Importing Products?
After the selection of the product, which itself squanders significant time and an arduous process, the second most unmanageable process is importing products to the online store from the source platform. So, this is the point where we can opt plugin to automate, make the process hassle-free, and save time.
The WooCommerce Dropshipping plugin allows you to easily import products from AliExpress to your WooCommerce store in two clicks and sell them to your buyers quickly.
What is WooCommerce Dropshipping Plugin?
WooCommerce Dropshipping plugin easily imports any AliExpress products directly into your WooCommerce store and ship them directly to your customers — in only a few clicks.  It gives you all the tools you need to import and sell products from the AliExpress to your WooCommerce store effortlessly.
How Does it Work?
WooCommerce Dropshipping Plugin works in two scenarios:
1. Dropshipping from AliExpress
The WooCommerce Dropshipping plugin works in combination with free WooCommerce Dropshipping Chrome extension by OPMC (available here at Chrome web store) to allow you to add dropshipping functionality for products fulfilled by AliExpress to your WooCommerce store.
The process is swift and products are in your product section in a few clicks.
That is, install and activate the WooCommerce Drop-shipping plugin.

Install extension WooCommerce Dropshipping Chrome extension.

To copy API  key go to Dashboard > WooCommerce > Settings > Emails > Dropshipping Notifications and click on Generate AliExpress Key.

Set up the Chrome extension with the plugin while visiting any product on AliExpress by providing an API key and your store web address.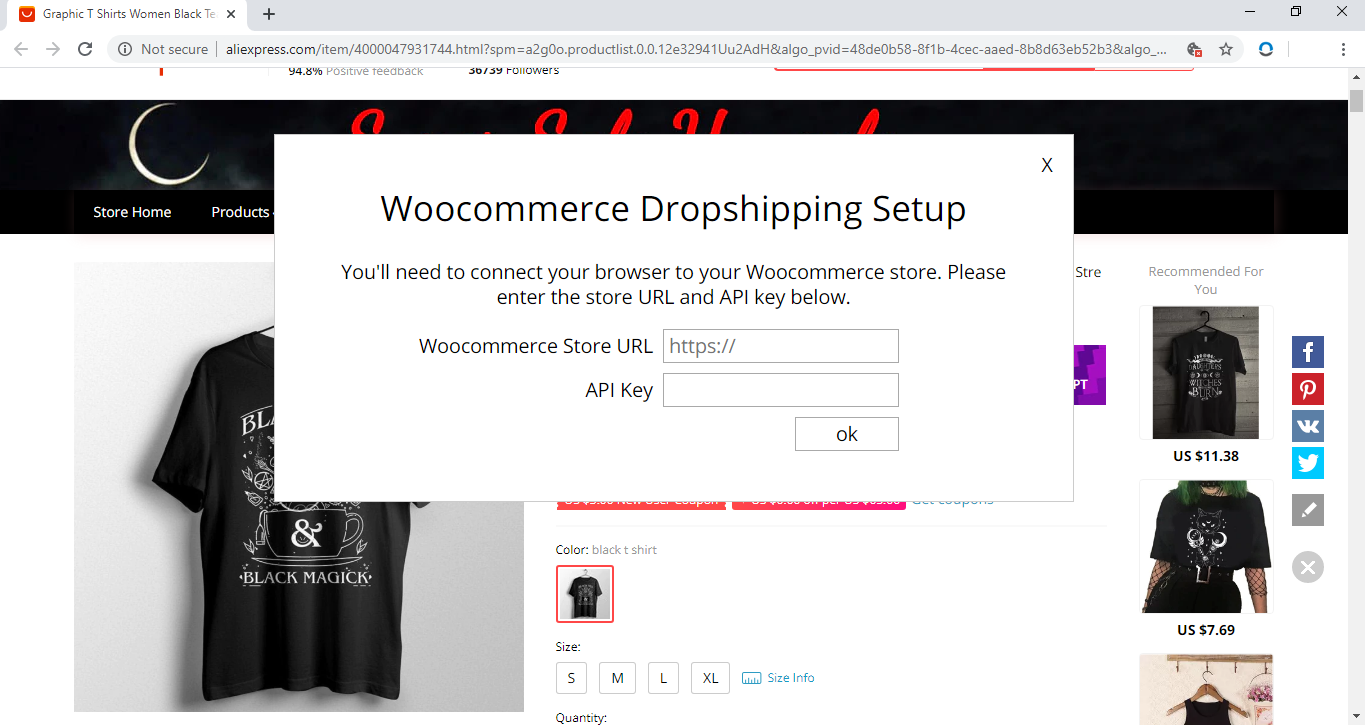 2. Dropshipping from Other Suppliers, Vendors or Local Wholesalers
Working with other suppliers, vendors, or local wholesalers where you usually rely on communication via email. WooCommerce Dropshipping plugin provides an automated methodology for this scenario as well. This method is unique and very lucrative for those interested in dropshipping with the local suppliers and wholesalers.
While dropshipping from other local warehouse, vendors, and suppliers you need to set it up while visiting Dashboard > WooCommerce > Settings > Emails > Dropshipping Notifications and  Dashboard > Products > Suppliers.
Key features of WooCommerce Dropshipping
WooCommerce Dropshipping gives you the liberty of time and smooths away the dropshipping business.
In coordination with the Chrome extension, The AliExpress product import attribute is totally automated and also expedites the ordering process to the AliExpress' suppliers.
It also provides agility and way more flexibility while dealing with local dropshipping wholesale suppliers and vendors that are not known well but do have remunerative products.
Let's talk about all key features of the WooCommerce Dropshipping plugin that can equip you with a hassle-free environment for dropshipping online.
Totally Automates AliExpress Dropshipping
WooCommerce Dropshipping plugin with the Chrome extension provides two-click import to your online dropshipping store.
When you visit any product page at AliExpress,  a blue bar will appear at the top with "ADD PRODUCT" button.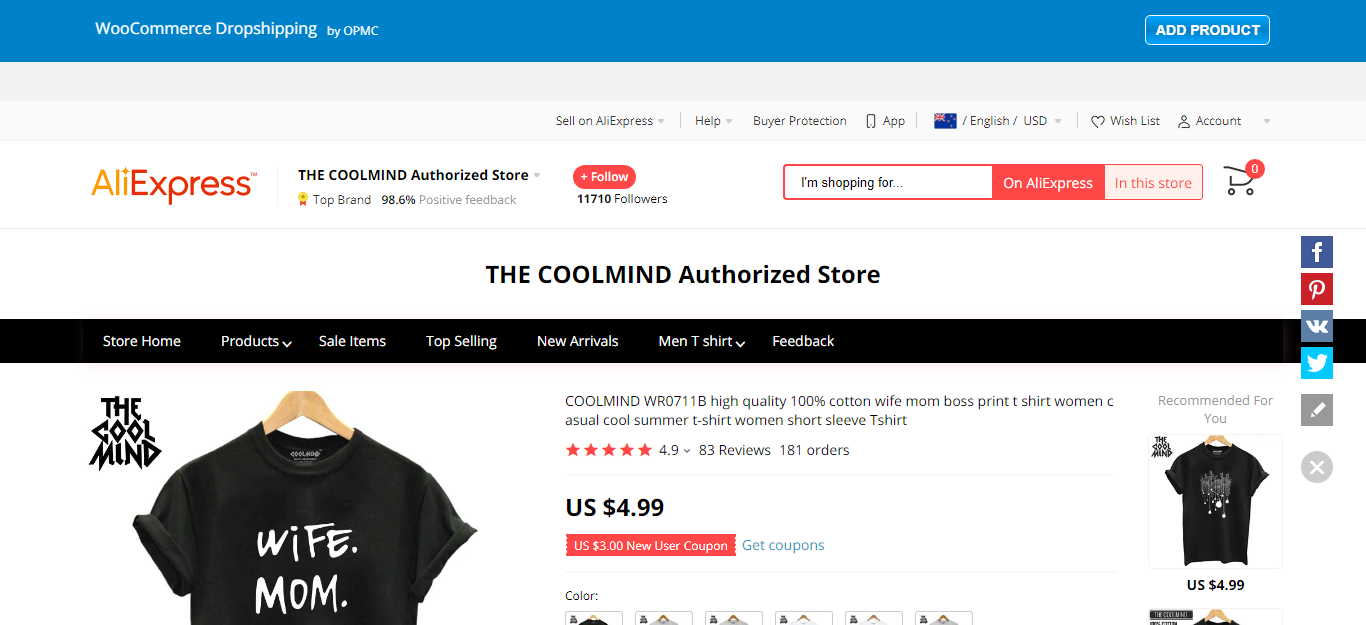 By clicking the "ADD PRODUCT" button, a new menu with 13 tabs opens up, containing all features of the product. These feature tabs are:
Title
SKU
Price
Regular Price
Sale Price
Short Description
Full Description
Stock Quantity
Categories
Add New Categories
Images
Attributes
Variations
Here all the tabs except prices, Stock Quantity, Attributes, and Variations are customisable. In other words, you can change the Title, SKU, images, descriptions, and categories according to your suitability, before forwarding the information to the Products menu in your store. Yet, the information sent to the Products' menu is not published. That is done intentionally so that you can re-verify the products before publishing on to your online store. You can delete any variation or attribute you think isn't needed. This would help to even up the product according to your appropriateness. After clicking the ADD PRODUCT TO STORE, AliExpress seller's product will be in your WooCommerce store.

WooCommerce Dropshipping plugin makes your ordering process quite simple and easy from AliExpress.
When someone buys your product, you'll be notified via e-mail and you just have to open that order in the WooCommerce menu, push the "Place Order automatically" button.

After that, visit AliExpress and while placing an order, a tab will appear at the top-right corner. It will help you with all the necessary information about the buyer. You only have to copy the information directly from there. This reduces the bustling from one website to another for copying the billing details of your client. Hence, it reduces the ordering time.

WooCommerce Dropshipping plugin gives you a great relief from importing and placing an order on AliExpress.
Better Coordination While Dropshipping from Local Wholesalers, Vendors, and Suppliers
The WooCommerce Dropshipping addresses a unique method of dropshipping that most plugin providers don't take into consideration. It is a solution that allows you to have better coordination with suppliers that even don't have a good online presence.
Suppliers will have a separate window registered with their name and password to manage the orders from your customers.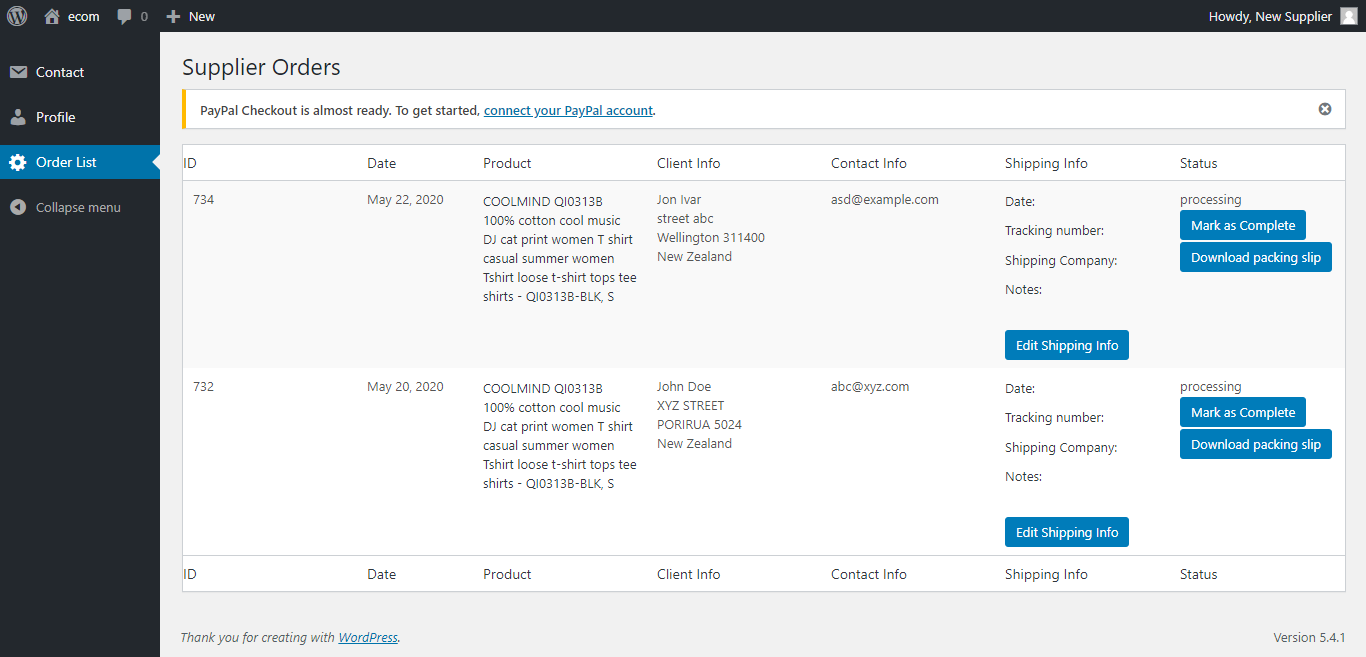 Suppliers can download packaging slip in PDF format that contains all the information of the supplier. They can change the status from processing to complete by hitting "Mark as Complete". They can also update shipping information for the convenience of customers to track down their products.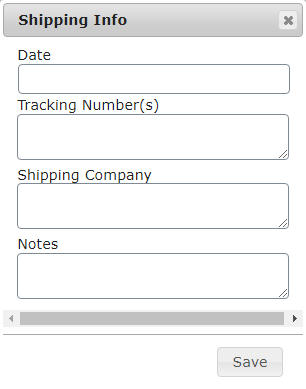 This approach saves a lot of time, as suppliers themselves can update the shipping information and status.
Email Notification Service
WooCommerce Dropshipping plugin has a customisable email service that you can edit according to your appropriateness. To set the email notification service go to Dashboard > WooCommerce > Settings > Email > Dropshipping Notifications.

When a customer buys products of a certain supplier and order status is switched to "processing" manually or automatically, from your store, an email is generated automatically and is sent to the supplier. The email contains all the information needed by your supplier. However, you have the authority to choose whatever you want to share with your supplier by checking the boxes in the Dropshipping Notifications menu.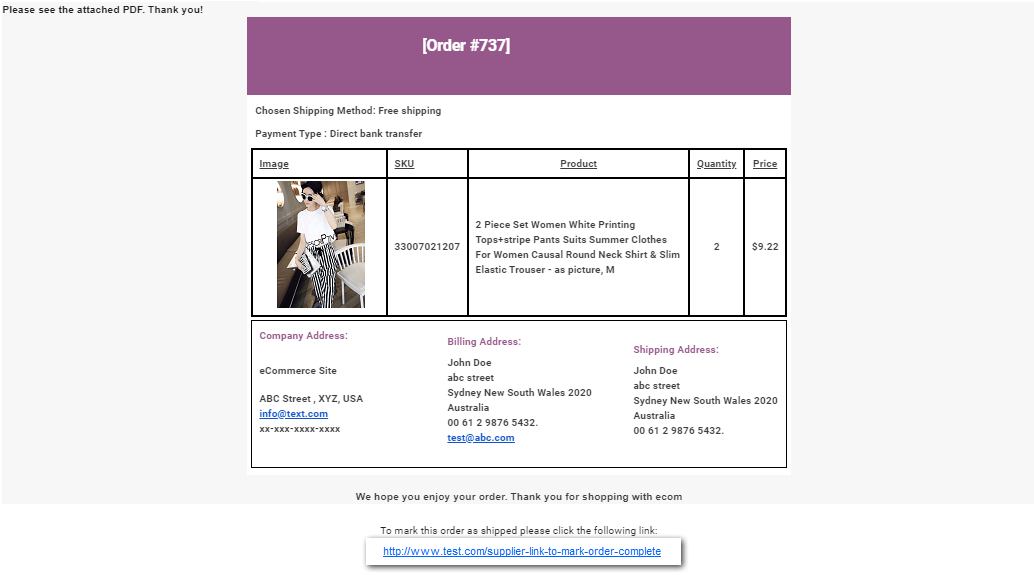 Custom Message to the Supplier
You can add a custom message for your supplier to help understand the supplier what is needed, what does it contain, or what this email is about. You simply have to type the message in the text area of  "Email order note" in the Dropshipping Notifications menu.

The message will appear here in the email sent to the Supplier.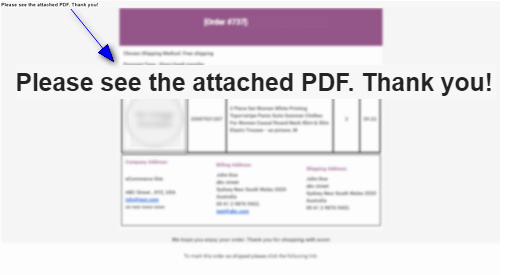 Printable Packaging Slip with Company's Address
Customers develop the feeling of security and trust when they receive the package mentioning the  Company's credentials from where they buy products. This results in returning customers as they know where to approach you when they have any queries.
You can customise your address and logo that you want to share with your customers. The name, address, email, and contact information are displayed in parallel to the buyer address in the packaging slip. You can also add a custom logo at the top of your slip for a professional outlook. The recommended size of the logo is 200×60px, to keep the aspect ratio intact.
Coordinate with your suppliers to include this packaging slip with every order.
You can also include a thank you note at the end of this slip.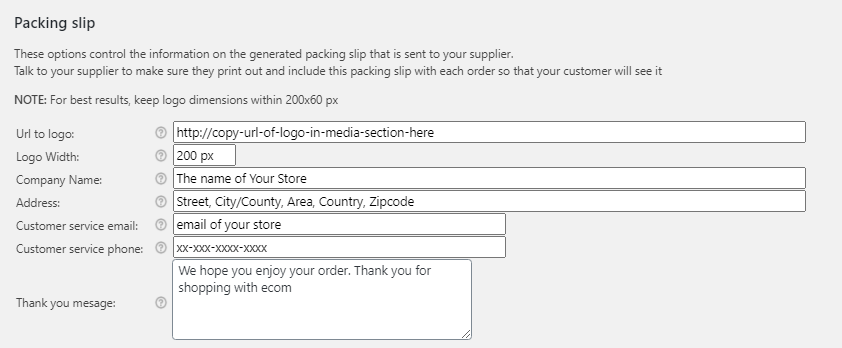 Language Conversion
By this feature, you can convert the labels of your packaging slip into any preferred language in accordance with your target audience for their better understanding. However, the default text will appear if you don't mention anything in the right text field.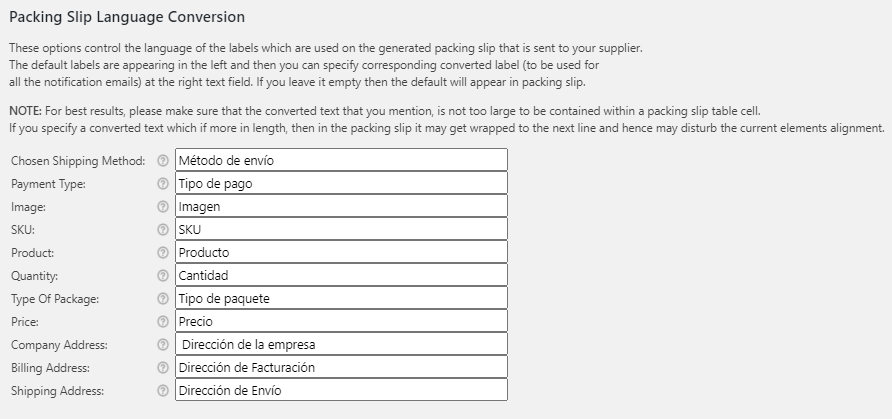 For Example, if we are targeting the audience in Spain, we have converted all labels in Spanish and our Packaging labels will look like this.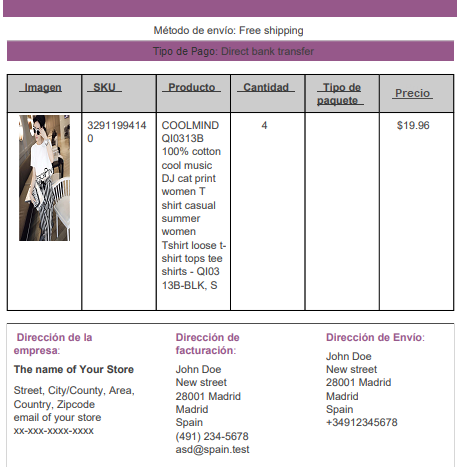 Add Custom Notes, Special Instructions or Disclaimers to Your Packaging Slip
Through this feature, you can add 200 characters of any Note, Special Instructions, Return Policy statement, Disclaimer, etc to Your Packaging Slip. These statements are sometimes very important while dealing with warranties and related concerns.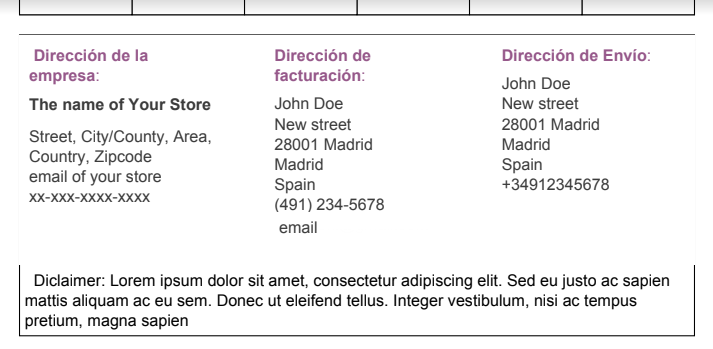 Notifies Low Stock in Inventory
This feature notifies the customer that the item is low on stocks. So,  customers have the opportunity to confirm their status before buying. This helps you to reduce cancellation on the basis of low stock or out of stock. You can talk with your supplier and confirm in advance that how much low stock should be considered out of stock, to keep yourself in a safe zone.

This message will appear on the buyer's end to make them aware while buying a low stock item.

Share CSV file with Suppliers
WooCommerce Dropshipping plugin also has a CSV file sharing feature. CSV feature helps local wholesaler and supplier maintain their inventory easily. Check the "Send CSV to Supplier" if the suppliers demand the CSV file to maintain their Excel sheets or database.

This will save the time of the suppliers. The CSV file will be sent to the supplier along with the other information when the status of the order is changed to "processing". You can also customise the column of CSV file according to your appropriateness. The top row will have all the labels that you have selected to be the part of the CSV file and the preceding rows will have the information about the order.

Liberty to Share or Hide Product Information from Supplier and Buyer
Being a dropshipper, you have to be careful about many things. This feature provides full freedom to customise your email and data that you want to share with buyers and suppliers.
1. Share Packaging slip as a PDF in Email 
As there are two methods to share information with your supplier; via email and Supplier's Order Portal. PDF is by default provided in the latter. So, you can choose whether to send the PDF on both the places or not, in conformity with the coordination of your supplier.

2. Show order date
Mentioning date at the top of Your Packaging Slip could help in many ways. It could help keep the records for bookkeeping, taxation, and maintaining inventory in conventional methods of inventory maintenance. Additionally, it could help suppliers set the urgency level date wise. It is very convenient though you can choose whether to mention it or not.

3. Choose whether to share product prices, Shipping method and phone number or not
Product prices and buyer's phone number information are not relevant to the suppliers. However, it all depends on your coordination and state-of-work with your supplier. Sometimes a dropshippers are using affiliate programs offered by their suppliers, so WooCommerce Dropshipping plugin leaves it on you to choose it yourself. You can also choose whether to display shipping method on the packing slip or not.


4. Sharing Supplier's Credentials, Payment method and type of package
Unless you are selling the products based on the affiliate program, never share Supplier's information and payment method. This is the most lucrative way of running a dropshipping business. However, exceptions are there, so WooCommerce Dropshipping plugin allows to do-it-yourself.
Type of Package is important for dropshippers dealing in fragile and environment-sensitive products. It is also a useful tab when the buyer order product as a gift. By checking this, another column is added in the PDF, where you can provide the information of Type of Package to be used.
5. Replace Selling price with the Cost price for Suppliers
You can replace Selling price with the Cost price if the packing slip is meant only for the Supplier. This option is lucrative for the dropshippers who want to keep their profits private from the suppliers.

6. Add/Remove Shipping and Billing Address
This  allows you to add or remove Shipping and Billing Address in the PDF that you send to the supplier. This feature is offered keeping in mind the dropshippers who fulfil orders themselves but don't buy the products in advance.
When the customer buys that product, they pickup the order from the nearby dedicated supplier and  fulfil that order.  In this scenario dropshippers can uncheck both options because here supplier is only responsible to prep the item.  However, in all other cases this should be checked because your supplier will need an address to fulfil.

7. Thumbnail Image of the product
Visual communication is always easy to understand compared to verbal communication. Checking this box will display thumbnail image of your product in the packing slip.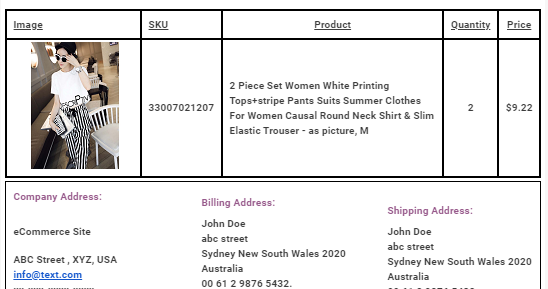 8. Add Store Name and Website Address columns in the CSV file
This option adds Store name and website address columns in the CSV file.  You can check the boxes if your supplier needs this information for maintaining the database.


9. Update your Supplier about Order Completion
WooCommerce Dropshipping plugin send a completion email to supplier the order is marked as completed. You can choose whether to notify the supplier about this or not.

10. Suppliers can change the status of product  to Shipped without logging in
By checking this feature, suppliers become able to change the status of the product to shipped without logging in. The link is shared at the bottom of the email sent to the suppliers. They can simply change the status of the order to "shipped" by clicking the link provided.

Link looks like this:

After clicking on this link, supplier is routed to a page mentioning that order is shipped to the customer.

This process is the best solution for the suppliers who don't prefer suppliers' order portal.
11. Share credentials of Supplier's Order portal via email
When you create the account of your suppliers for giving them access to the Supplier's Order portal, WooCommerce Dropshipping Plugin will share the credentials automatically by checking this feature.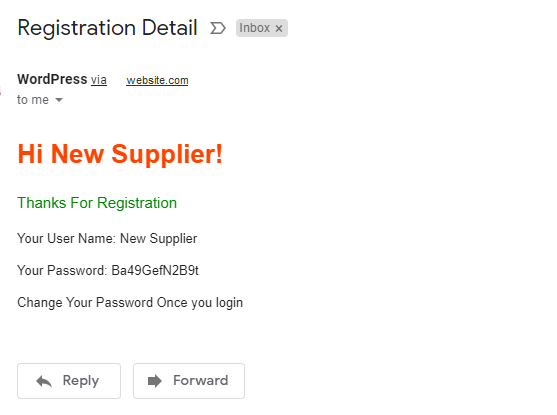 12. Use Woo Mail email templates for communication with Suppliers and Buyers
Checking this feature will integrate your email into standard Woo mail templates. These templates give professional outlook to your emails.

Integrates and Synchronises SMTP mail function
If you are SMTP mail function user, check this feature to synchronise your email with WooCommerce Dropshipping plugin.

Email Sender Information
This feature is the best solution, when more than one administrator are working  on single website. You can provide the default store name and default email address for your customers and suppliers for communication. Both of these are displayed when WooCommerce plugin generates any email from your account.

Dropshipping Suppliers Maintenance
When you install WooCommerce Dropshipping Plugin, a separate "Suppliers" tab is integrated into the "Products" section.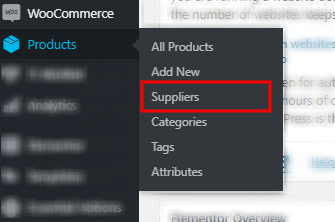 This section helps to add new dropshipping Suppliers and maintain their inventory. By creating new Supplier the email is sent to the supplier that contains Username and password to access Suppliers' Order portal.  One can check number of products affiliated with every supplier. Additionally, you can update inventory by simply importing CSV file in bulk. In other words, it is the best method to bulk import inventory.
Other than "Add New Dropshipping Supplier" form, WooCommerce Dropshipping plugin displays Names, emails, CSV upload tab, and count of products of every supplier.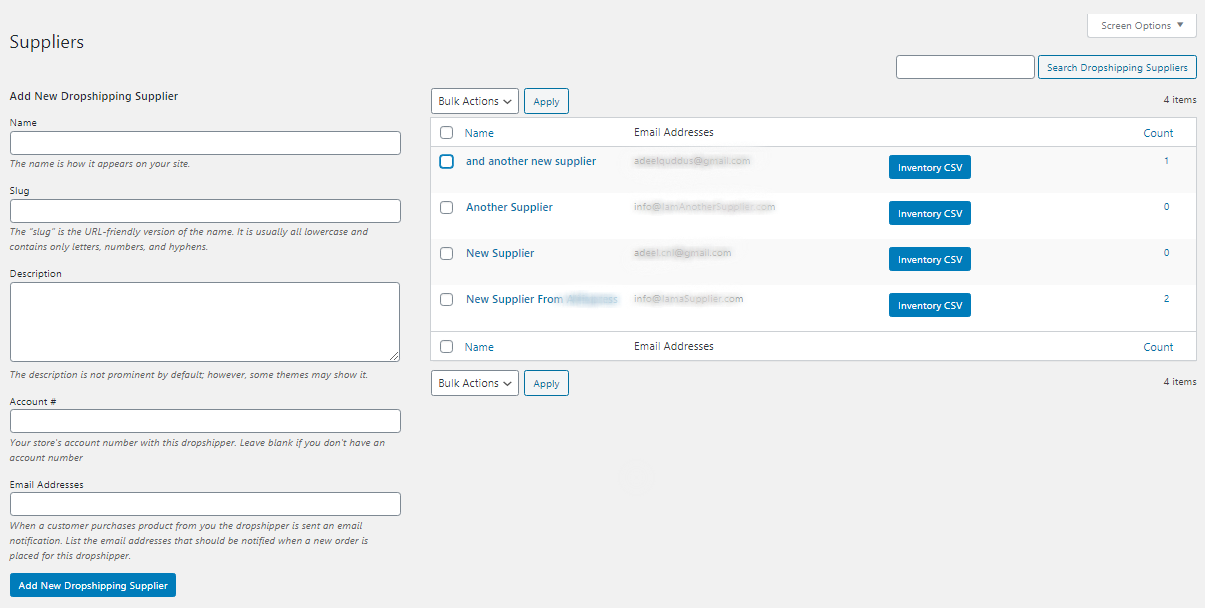 You can keep up to date while actively coordinating with your supplier. Uploading  CSV file in recommended format will update the inventory automatically.
Summing Up!
WooCommerce Dropshipping Plugin is a unique dropshipping tool that addresses dropshippers working in two domains:
Dropshipping from AliExpress
Dropshipping from Local Wholesalers, Suppliers, Vendors or Affiliate Programs.
WooCommerce Dropshipping plugin can manage multi-vendors quite easily without any confusion. It automates the process and provides facility of bulk inventory import for Suppliers. It is a great relief compared to conventional methods when dropshipping with any local Supplier.  WooCommerce Dropshipping Plugin is comprehensively designed to address suppliers that have limited exposure to eCommerce world.