These are the times when all businesses are going through tough times due to COVID-19. Businesses are mandated with forced shutdowns, lawmakers are urging avoiding social meetups, gatherings and congregations at retail brick-and-mortar stores and other places too. You know, it's a big challenge ending up with less or no sales as businesses are no longer relying on foot traffic to generate sales. These challenges really must be intense for small retailers. We must come up with new ideas and adapt to emerging trends to ensure this business activity gets back to normal.
Online sales can broaden your market and increase revenue for your business, but there are a couple of factors that should be taken into consideration. Due to the logistics involved with getting the product into your customers' hands, it's also possible for you to lose money in this space too. And because selling online means you're competing with every other vendor in your market, you also need to focus on marketing.
Emerging trends and behaviours are consistently providing an opportunity for  businesses to accelerate with their digital presence.  This will force your business to rethink or redesign your marketing strategies to capture digital opportunities.
Immediate actions are required to address these challenges to ensure your business brand survives.
Identify Your Competitors
Competitive research is the backbone of a strong marketing strategy. It is important to determine what kind of competition you'll be facing. If you are selling something readily available from other online retailers, you might struggle to gain a foothold unless you can offer more competitive prices. People are more likely to purchase from an established retailer that they have dealt with before when the price difference for products is negligible. Competitors might also have deals and promotions in place that you can't match. Studying the competition also allows you to see what they are doing right and what you can do to improve on that for yourself when venturing into online sales.
To really take your research on what to do to the next level, join the mailing list, follow blogs and social media channels of your competitors. You can even buy a product, or leave an abandoned cart to see how they respond. This will allow you to gather more information and see how they speak to their customers.
Consider the pricing strategy of your competition. You know, over 60% of online consumers consider the price of products as the top priority in making purchasing decisions. Look at your rivals to see how they've priced products similar to yours. You can learn what the target market expects, and what they're willing to pay.
Your goal is to identify your competitors' strengths and their weaknesses and then look for opportunities to take advantage of those. If you want your business to remain competitive, you need to remain agile. You must continue to adapt and innovate, just as your competitors are.
Fulfilment Solution for Your Products.
Another factor you should take into consideration is the logistics of delivering products to your client.  Caring about the fulfilment process means giving yourself additional ways to save money while meeting the growing demands of customers. You need to look into the delivery options and insurance which might eat into your profits unless taken into consideration.
In order to provide positive customer experience and build loyalty, e-commerce operations will have to commit to continual improvement and investment in their logistics processes. But managing all these factors in-house can be an uphill battle for new companies with limited experience and expertise in this area.
By entrusting all or part of their logistics needs to an experienced and proven third-party logistics partner, e-commerce companies can rest easy knowing that their customers will be given a seamless delivery experience and that shipments will reach their destinations safely and on time. Couriers, such as PACK & SEND, trans direct, Australia Post, UPS, FedEx, Aramex, etc. could help you with packaging, fulfilment, parcel & freight delivery services .
You need to identify the elements of the supply chain on which you can act. In major cities, you'll often find local delivery and courier companies that will deliver more quickly to your customers than the big carriers, at very competitive rates.
Better eCommerce Hosting Service
Considering that online sales are beginning to overtake brick-and-mortar transactions, it's becoming increasingly imperative for small business owners to build an online presence. Just the same as a bricks and mortar retail shop, your online presence also needs space to display your products online. That is what web hosting does for you.
Web hosting is very important and crucial for better user experience when clients visit your online store.
Believe it or not, a slightly slower page load speed can have a bigger impact on possible transactions than your products, prices, or customer support.
For the selection of the best web hosting services, we recommend choosing the web host based on reputation, bandwidth, space, up-time, server type and security service.
Modern and Responsive Web Design for Better User Experience
Modern and Responsive eCommerce design is essential to boost sales on your eCommerce sites. It allows users and visitors to get the best navigational experience across various platforms, devices and browsers. You should strongly consider catering to the ever-growing eCommerce market, which permits customers to browse and shop online through a variety of devices such as tablets, iPads, Smartphones, etc.
It helps customers to optimally view and use your website no matter which device they're on, and will help to decrease the amount of any potential sales loss. The number of people shopping through their mobile phone is set to increase in the next few years, so we recommend your website be optimised and ready to match the rise in numbers.
CMS for your own website "WordPress"
A simple website is a must-have for your business to ensure a good online presence.  People need to know that you exist if they look for you over the internet.
To maintain and manage data in your website via a content management system is very important. 55% of the websites worldwide use  WordPress for this.  WordPress is a flexible platform offering the freedom to move your website to any other provider in future if you need to. Powerful add on features bring more value to your website. With proven performance and stability you can build the most reliable and stable of websites.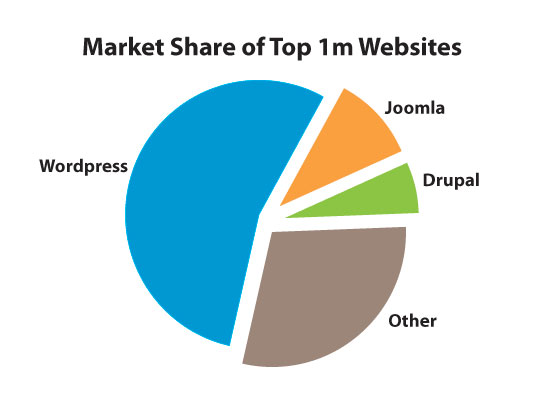 Select eCommerce Platform "WooCommerce"
Whether you're expanding a brick-and-mortar store, looking to find an enterprise-level solution or even starting a business from scratch, your choice of eCommerce software has a huge impact on the profitability and stability of your business. Businesses must ensure to adopt the eCommerce platforms for boosting sales and to ensure they remain relevant.
WooCommerce is a free, adaptive and highly flexible e-commerce add-on built for WordPress and is used by hundreds of thousands of people worldwide. It's specially designed for any sized online sellers using WordPress. WooCommerce supports your business to build customised eCommerce stores, where you can display your products, images and descriptions to showcase your offering.  Visitors can easily scroll through with desired products with search and checkout facilities. WooCommerce works on all mobile and smart devices as most people nowadays shop on mobile devices. It also offers hundreds of other add ons called plugins to customise your website in whatever way you can think of. You can sell everything without any restriction or limitations.
WooCommerce is designed for selling and it includes everything a new eCommerce retailer needs to get up and running.
Secure Your Online Presence
Secure Your Customer Information
Security is a big issue for both buyers and sellers on the web. Online businesses are targets for hackers looking for customer information and accounts.
It's your responsibility to safeguard your customers' information, as a security breach will not only be very inconvenient for your customers but will also cause serious damage to your reputation.
Make sure you have effective strategies in place to prevent any chance of mishandling customer information. Fortunately, there are many ways of acquiring the best protection against Fraudulent activities. You should consider these options to protect your website from vulnerabilities.
Choose a better hosting service.
Purchase an SSL certificate from your trusted hosting service and use HTTPS.
Choose a secure eCommerce platform.
Secure user-level information.
Don't store sensitive customer data.
Run vulnerability tests on your website.
Keep your website software Up-to-date.
Ensure your website is (PCI DSS) compliant – that just means you are securely handling credit card information, and you should get professional advice on this.
Avoid Chargebacks
Chargebacks can occur due to various reasons, ranging from defective goods to fraudulent transactions. Understanding the reasons for chargebacks can help you take steps to reduce them. Here are the main reasons for chargebacks:
Your product is never received by the buyer.
Your purchase was made from an unauthorised credit card or any other payment method.
The product didn't meet the customer's expectations.
Website description contradicts the product received.
Wrong product was shipped.
Now, keeping these in mind, you should have a proper plan to counter these sorts of issues. We suggest that it's important to do the following:
Swiftly respond to chargeback notices.
Politely communicate.
Fine-tune refund policy.
Install different anti-fraud tools available online to check the severity level of issues so you can respond accordingly.
So, there is nothing much to worry about, there are many solutions available online to make your online presence safe and secure.
Have an Online Marketing Strategy
Marketing your product online requires exposure on social media sites, as well as targeted ads designed to drive traffic to your site. You can use social media, digital content, search engines, email campaigns and business directory listings to attract visitors and facilitate purchases online. There are multiple strategies and tactics to make this possible.
Social Media
Social Media is the best option for marketing online on a budget. While selling on social media, your customer doesn't need to visit your website and find the product rather they will just click or tap on your product post to reach it. Social Media is highly visual, so your success on social media depends on your use of imagery to drive attention as well as traffic to your product pages.
You can also reach the influencers and media personalities related to your niche audience and ask for the promotion for your product.
With over 2.6 billion monthly active users Facebook is the biggest social media network.  Instagram has 1 Billion active monthly users and WhatsApp with 300 million daily active users are the best places to find a target audience.
Brands, established and growing businesses all launch pages on these social networks to connect with their audience and post content that the audience is interested in.
You can take your social media posts a step further by creating shoppable content, which is content that enables visitors to buy right away. That can include anything from strategically placed display ads within a social feed to additional tags that take users directly to a shopping cart. These methods help you eliminate friction from the buying process.
It's a huge opportunity for the business to target with exciting posts and share and get engaged with the customers using Social Media.
SEO
Successful SEO campaigns begin with keyword research. Following the best search engine optimisation techniques you can easily drive traffic to your stores and online presence. You need to understand what your customers are searching and looking for when intending to buy anything. You need to look for the trending keywords customers are searching for to incorporate with your marketing campaigns.
Most online retail searches are specific, so your product title and descriptions should be specific as well. Incorporate relevant keywords into product copy, page URLs, and other searchable content, as well as details, colours, sizes, and all other information that your potential customers might use as search criteria.
Make your content shareable. Moreover, websites with more pages tend to rank higher than those with fewer pages. So, other than products try to add more pages like Blogs, recommendations, and other interesting content.
Email Marketing
Email marketing is one of the oldest forms of digital marketing. It holds specific value in the world of e-commerce marketing. For email marketing, we suggest using a professional email address. As a business, it's important that you use a professional business email address like name@yourcompany.com and not a generic Yahoo or Gmail address.
This will help make sure that your email deliverability rate is higher than the industry average. Also, send targeted emails based on interests.
Use email marketing campaign software. These will automate your email marketing. This will help your email marketing campaigns have the highest open rate and click-through rate which is a big factor in future email deliverability.
Facebook & Google Ads to grow sales
To reach the widest and most diverse audiences with low budgets use Facebook Ads services. You can reach up to 2 billion monthly users on Facebook and Instagram and stay connected across mobile devices and desktops.
You can reach your ideal customers through Google Ads when customers search for you against your keywords. They will only pay when they click your ads.
Business Directory Listing
Potential customers can easily identify you, learn more about you digitally if your business is listed with local and online business directories.  This will significantly enhance your online visibility.
Your business is missing out on an opportunity to get found by your potential customers if you don't do this. So, the ultimate suggestion is to get your business listed with these directories to amplify your online presence, and improve your local visibility to attract new customers. This can also help your business to create brand awareness
Name: Use a consistent name on all listing categories to avoid any confusion with customers which may lead to loss of customers and sales.
Address: It's crucial to use accurate and complete addresses with listing directories so that customers can easily reach your locations.
Phone Numbers: Good business listing and online presence is all about trust. Customers trust your business as a local business if they find your contact numbers on your listing and search engines also like this.  There is a tap to call feature which makes it a lot easier for customers to take  actions to reach out to you.
Websites: Customers prefer to first understand your business and learn more about you before any contact.  Websites allow your potential customers to get in touch with you the way they prefer.
Photos and Videos: uploading photos and videos help potential customers to learn more about your products and features which may entice them into taking the next steps.
Category: Customers search for product categories rather than the business names, so it is quite useful to list your products or services into categories and subcategories to show up in searches.
Customer Services
Incredible customer service is the key to success in eCommerce business. If you want to grow your eCommerce business, provide customers with an unbeatable experience.
In order to offer exceptional customer service, adopt a proactive customer service approach, dealing with potential issues before they arise. When eCommerce companies operate in this way, they are seen as partners, rather than just a company out in the ether.
With proper planning, strategy and by implementing some ideas, your eCommerce business can be a great success. Following best practices should be considered to satisfy your customers.
Don't rely on one Channel
There is fierce competition in eCommerce throughout the world today, so when brands are unable to determine the best channel to use for customer service, they do suffer.
However, If you want to deliver top-notch customer service, you can't rely on one channel only. Give more than one option to reach you. For example, Facebook, WhatsApp, email, phone number, physical address, etc.
By doing this, customers will contact you at the time and method they prefer, and probably what they are most comfortable with. Definitely respond as early as possible – by the time some ecommerce businesses have replied to an enquiry, the sale may already have been made elsewhere!
Integrate Live Chat or Chatbot Service
According to e-Consultancy, live chat is the preferred method for customer service. Offer a live chat service on your website.
Live chat applications on websites provide a quick means of communication with customer service representatives and a way to resolve customers' challenges.
However, if you think you cannot reply to your customer swiftly on Live Chat, install Chatbots. Create FAQs and integrate your Live Chatbot with them. Try to address as many answers as you can. This will help your customers instantly find their answers.
There are many reasons you can benefit from offering a live chat service on your eCommerce website. You can even generate leads from these as well.  Not least the fact that customers love it.  Check your chat history periodically to see how effective your conversations with customers have been.
If you're anxious about the idea of live chat, consider instant messaging services. For example, we successfully deployed Facebook Messenger as an option for customers, which is not necessarily a live chat per se, but considered by many to be an instant form of communication – even though you may not respond straight away.
FAQs Section
A frequently asked questions section is always a great alternate for customers. This section gives a quick solution to your customers without contacting customer support. FAQs are useful for repetitive questions.
Always maintain a confident, constructive, and encouraging voice when writing your questions and answers. In your FAQs section always provide a Call to Action at the bottom, as it will paint your business as communicative and welcoming. Giving visitors multiple ways to reach you, such as providing an email address and a phone number, is even better.
Use CRM Software
Use Customer relationship management software to enhance customer satisfaction. By this, you will have a recorded history of every customer and this can help you resolve concerns and better satisfy your customers. That is, it will streamline your process.
A good CRM software solution will make life easy for you through automation and help you make informed decisions to increase your return on investment.
Wrap Up!
An unprecedented situation like this has forced a rethink about the fate of our brick and mortar retail businesses. Every business that relies on human interaction has seen a lot of interruption these past few months. We can't rely as much on walk-in customers like we used to. We need to take these retail businesses online for survival and for more reliable income too.
OPMC is an eCommerce specialist helping with small to medium enterprises to come online. OPMC can offer all that you need to come online from hosting services to plugins and support of any kind in the eCommerce business. Our mission is to empower people to fully harness the web. If you'd like some feedback or advice on your idea or need some help, please make an enquiry directly here.