Overview
Customer Support for WooCommerce is a plug-n-play live chat extension for Woo users with simple usability. In the fast-moving world of eCommerce, live chat support service has gained a monumental stature. People feel more comfortable while communicating via live chat over any other alternative like email, contact form, and so on because it is fast, efficient and at their convenience. Therefore, respecting customers' time by giving quick on-site solutions for their enquiries can increase customers' loyalty and ultimately fuel up sales. Customer Support for WooCommerce has all those key ingredients, which can provide a good customer experience.
Why choose Customer Support for WooCommerce?
 It has a range of benefits over any other tool available for WooCommerce. 
Coherent with WooCommerce themes

-It allows customer service to be run directly within the WooCommerce store itself. 

Cost-Effective

– Most customer service software requires not only a plugin to integrate with WooCommerce, but also ongoing per-user licences, which means costs add up as your team grows.

Instant order verification facility

– Customer Support for WooCommerce compiles all the information of every customer at one place to quickly check the status of orders made by a certain customer and response to their customer. 

Offline support

– If customers reach your store in off-hours, they can still generate a ticket that you can resolve when you come back online. 

Personalised environment to communicate

– After creating a ticket, customers have personalised space where they can visit to check the status of their enquiries.

Exclusive support and updates with a 30-day money-back guarantee.
Features
Customer support is at the heart of a successful eCommerce business. Customer Support for WooCommerce provides spot-on features for managing customer enquiries.
Control all conversations from a single dashboard
When any customer initiates a conversation, a distinctive ping tone is heard. Merchant can check on order records available under Customer's recent orders column and answer their enquiries instantly. 
Every order has following product information readily available in customer support dashboard:
Status of Product

Order Date 

Payment and Shipping Method used

Billing and Shipping Addresses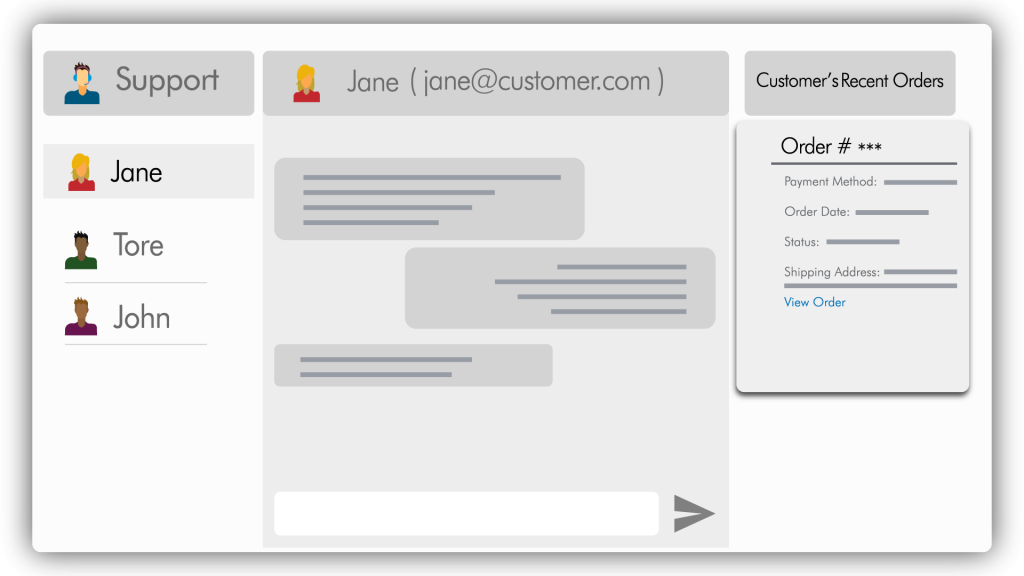 On customer side, "Live Help!" greets people with a chat box at the bottom of the page. That box always remains in sight and can be accessed with a single click.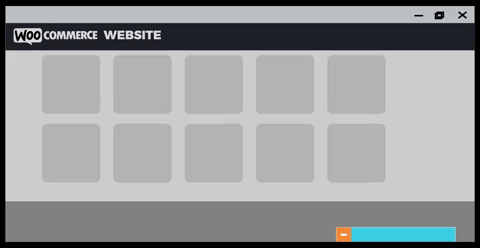 Switching between tabs made easy
For a complete orders history of a certain client, Customer Support for WooCommerce has made collection of information simple and hassle-free. With on-site response tab, it is easier to address enquiries related to products and orders. 
Customer Support has an on-site response tab with all the basic information on products previously bought by a client including full history of previous chats. This reduces the resolution time and helps swiftly coordinate with other clients in a queue.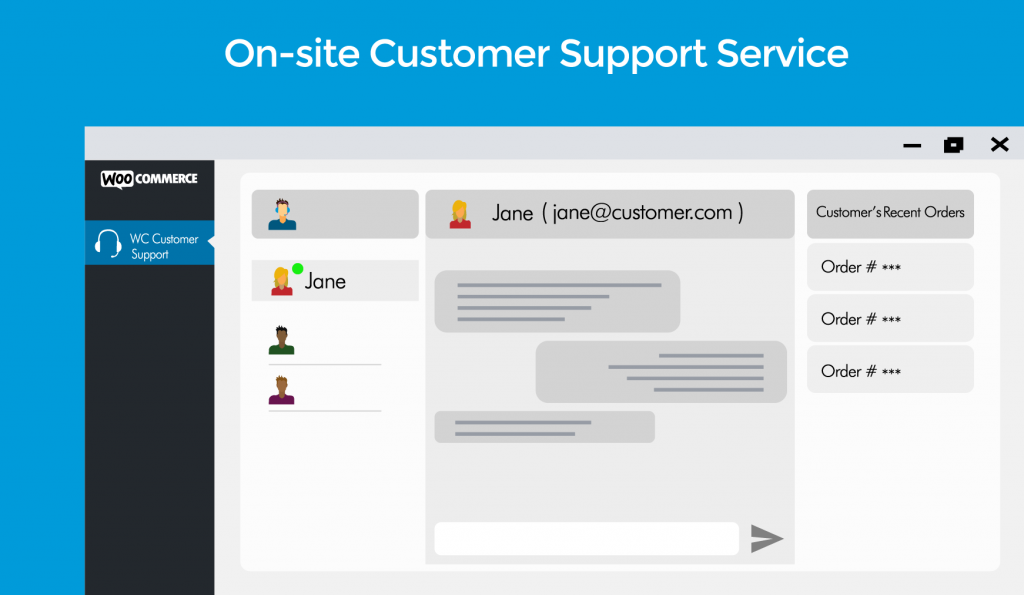 Set up Availability for Customer Convenience
When offline or busy with other things, change customer support status to offline and let clients submit enquiries via "live help!" or our recently introduced ticketing system. Respond back later via email or ticketing system.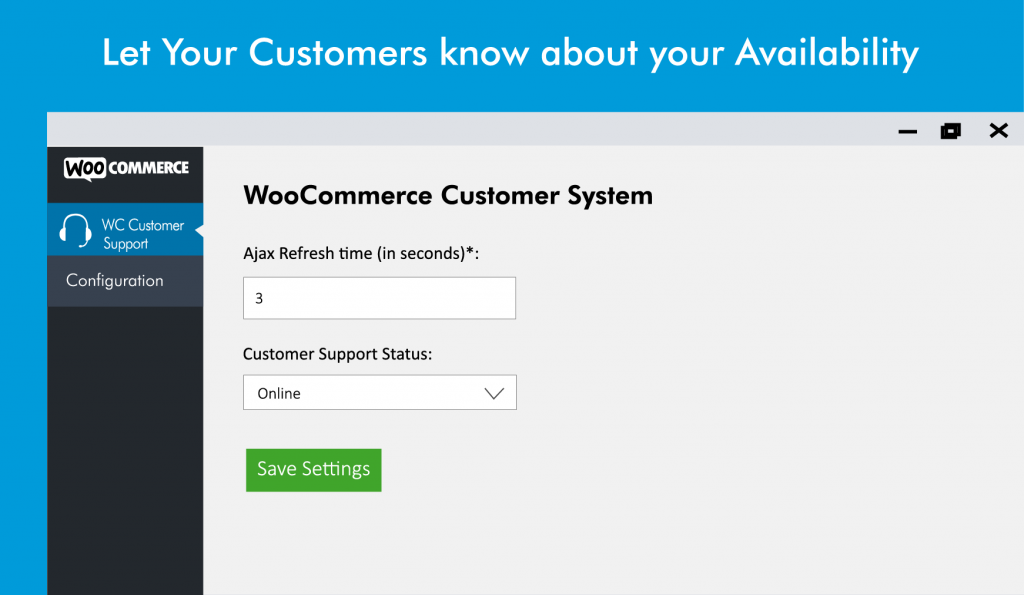 Scalability
This plugin is designed for businesses of every size. For example, if a business is small, with a limited storage facility, or a seller is experiencing a higher volume of clients than expected, increase ajax time for load shedding. 
Optimum value of Ajax Refresh time is 3 seconds.
Ticketing Support System –
Latest feature upgrade
Ticketing support system provides a personalized environment for customers. In our latest upgrade, we have created a built-in ticketing system. It is rather one of the best ways to engage customers on a website, which is analogical to better conversions. More time customers spend on a web store that is more likely to find a new product.
Ticketing system is the backbone of successful customer support. It also helps prioritise work within the team. When dealing with a lot of customer enquiries, it is possible that we can lose track of what needs to be done. This new upgrade will help merchants keep track of their customers, resolve their issues conveniently and will eventually lead to happy customers. 
Ticketing system has brought some key values to Customer Support for WooCommerce.
Liberate Customers from Emails
Emailing is hectic for many customers especially when they have bought something online and are looking for an immediate solution for an issue they have encountered.
Ticketing system comes in handy in following two conditions:
When a merchant is offline. 

There is an issue that needs a comprehensive solution. 
Customers can create a ticket by clicking on "Create Ticket" in "Live help!" tab. On clicking, they are routed to "Create New Ticket" section of WooCommerce My Account page. 
A form is provided where they can select category and priority level of their ticket to let merchant or support team know about the nature of their enquiry. Customers can keep track of their enquiries by visiting "Support Tickets" tab of My Account page.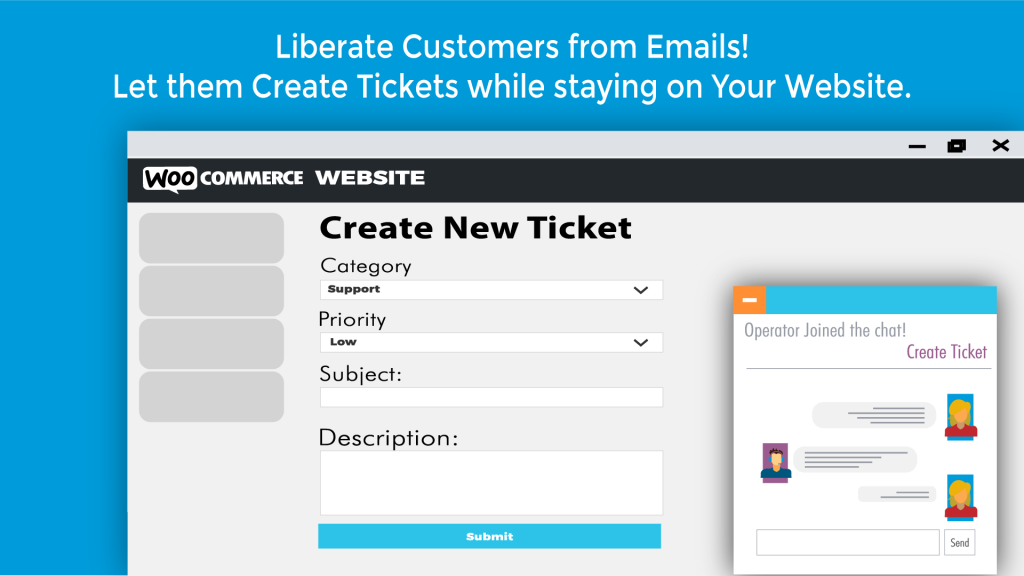 Search, Sort and View Tickets in Support Tickets Tab
A separate new section is added in Customer Support plugin for ticketing system which gives an overview of all tickets created by customers and let merchants know their standing on every ticket. Here is a short overview of Support Ticket Section.
Sorting – Merchants can sort tickets by ID, username, subject, priority, status and date whichever is preferable to them in ascending or descending order. 
Search option – Support team can search for certain enquiry quickly by typing details related to a certain ticket. 
Limiting per page entries – Limit number of entries per page by selecting a suitable amount from the top left corner.  
Action – Click on "View" to have a single ticket view containing detailed information about it.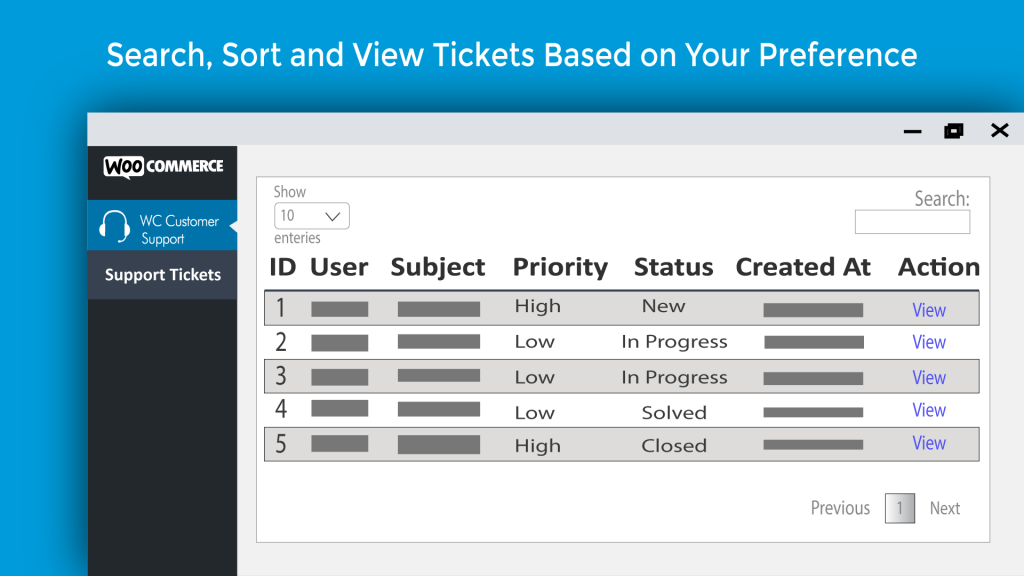 Get all the Information about a Single Ticket in one Place
When a merchant clicks on "View" from Support tickets tab, relevant information will pop up which consists of 3 sections.
Ticket Details –  This section contains information that a certain customer has provided about the status of the ticket and a link to visit chat history. Merchant can also update the category, priority level and status of the ticket from this column. 
Comments – This column consists of enquiries made by any customer and actions or updates from the support team with timestamps.
Recent Orders – Recent orders can bring basic information about every recent order from a specific customer. It redirects merchant to "WooCommerce Orders" tab of that specific client.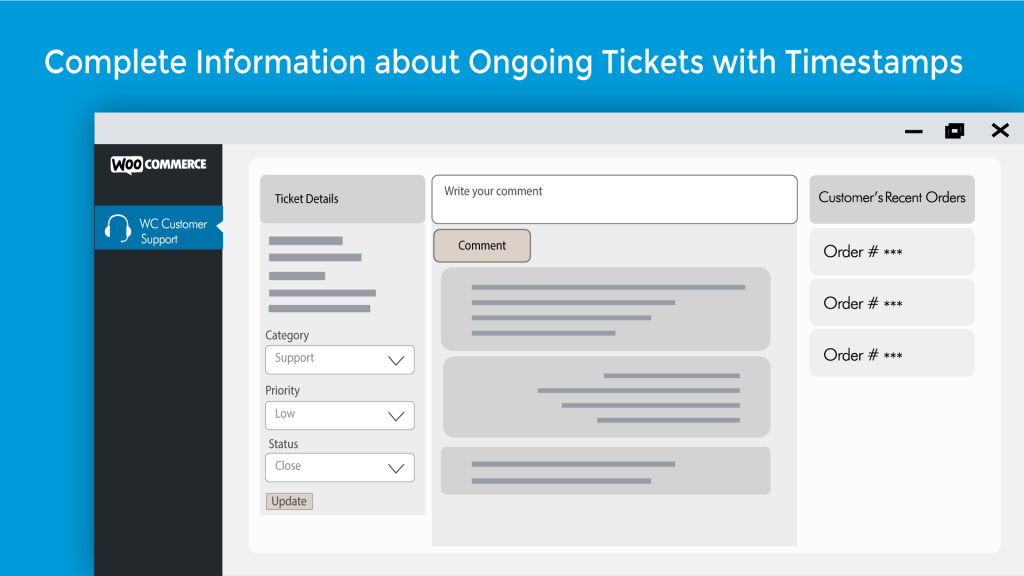 Why Live Customer Chat Support is important for eCommerce stores? 
Marketing, branding, user interface, responsiveness surely act as honey extractors for eCommerce businesses but Customer chat support puts extracted honey in bottles and label them nicely to create great value for their products and also adds to user experience. So, bringing traffic to websites can't be enough for a prolific growth unless we have a strategy to keep customers engaged on our websites and convert them to leads.
Live customer chat support provides following benefits to eCommerce customers and store owner:
Quick response for customers for their issues

Increases conversions 

Engages customers and provides advantage over competition

Boosts sales

Provides understanding of customers shopping behaviour
Wrap Up!
In a nutshell, attracting and keeping the customer engaged on a website has been the challenge for marketers previously. High per-user license of existing live chat tools still makes it challenging for small and medium enterprises. Customer Support for WooCommerce is designed to overcome all these issues and give small and medium enterprises liberty to provide a better customer experience and compete with a growing eCommerce sector.
Try Customer Support for WooCommerce plugin with 30-days money-back guarantee with 1 year of support and upcoming new feature updates, available at WooCommerce.com.
Here's to great customer service!