Introduction
Many dropshipping suppliers aren't known for their expertise to market themselves to their potential customers, so finding a Dropshipping supplier that you can trust and have a long term business relationship with is a difficult task.
It's quite a long procedure as you have to consider many aspects before starting your dropshipping venture with them because not all suppliers offer dropshipping services as well.
Every supplier has different business deals when you buy from Asia. For example, if one offers free shipping for a product they may have higher rates, while the other that offers a very low price of the same product may charge higher for shipping. Proper research and calculation can surely help in this matter.
Asia is the largest of all the continents, in terms of population and area.
Top 10 Dropshipping Wholesale Suppliers in Asia for Higher Profit Margins in Dropshipping
We've provided some of the best dropshipping suppliers that can help in lifting your business strategy in Asia.
Let us help you in searching the top suppliers for your dropshipping business.
AliExpress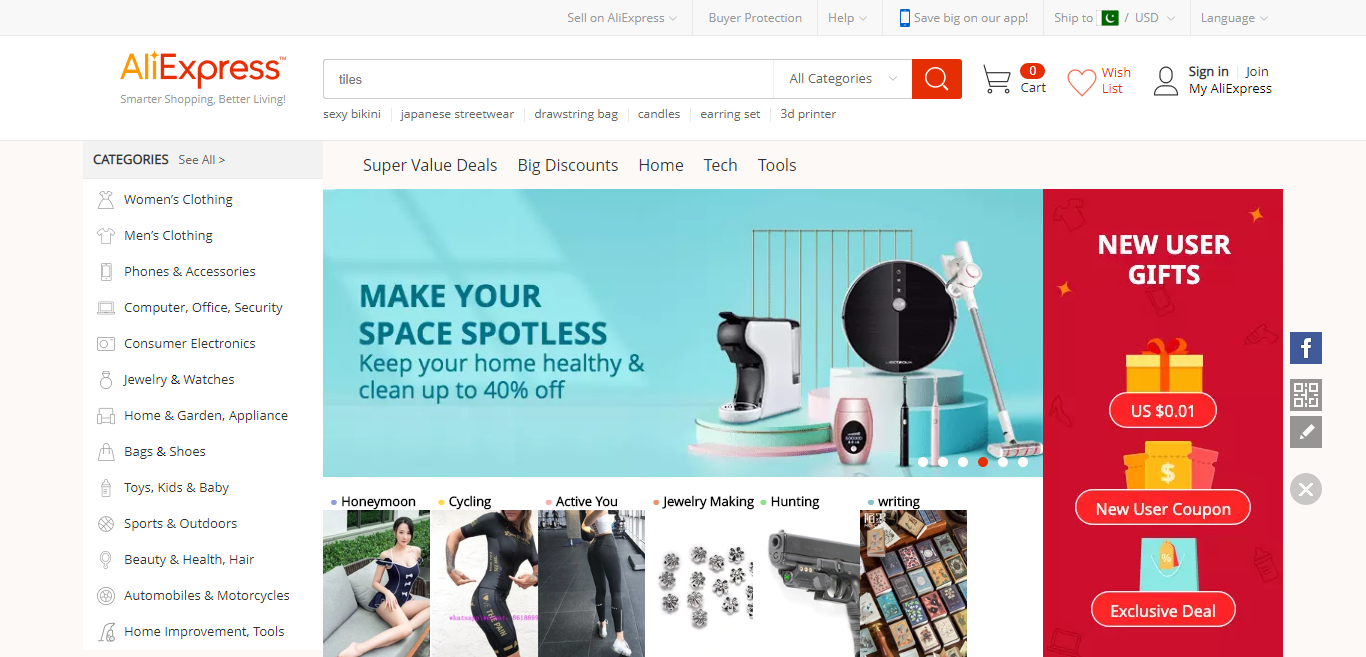 Website: https://www.aliexpress.com/
AliExpress is an online retail service owned by Alibaba Group in China. It was established in 2010, keeping in mind the perspective of a platform for small and medium enterprises in China and other countries. It's also one of the most visited e-commerce websites in Russia.
AliExpress is mostly on the priority list of almost every dropshipping business owner worldwide. In its 8 year journey, it's grown at a very high pace compared to any of its pre-existing competitors in e-commerce in a very short time duration.
AliExpress started as a B2B service provider but now it supports all business models like B2C, C2C, etc. For better user experience of different ethnic groups, the main website is currently available in 17 different languages. It was ingeniously designed for international buyers.
It's very famous among users that are selling products under the dropshipping business model. However, AliExpress doesn't allow customers in mainland China to buy, as it's more of an export-oriented platform. The affiliate-marketing-program is also available where a commission is rewarded for sending visitors. Many tools have been designed by software developers to help dropshippers integrate their websites with AliExpress.
AliExpress with more than 500 categories and 100 million+ products, is really topping our list.
Made in China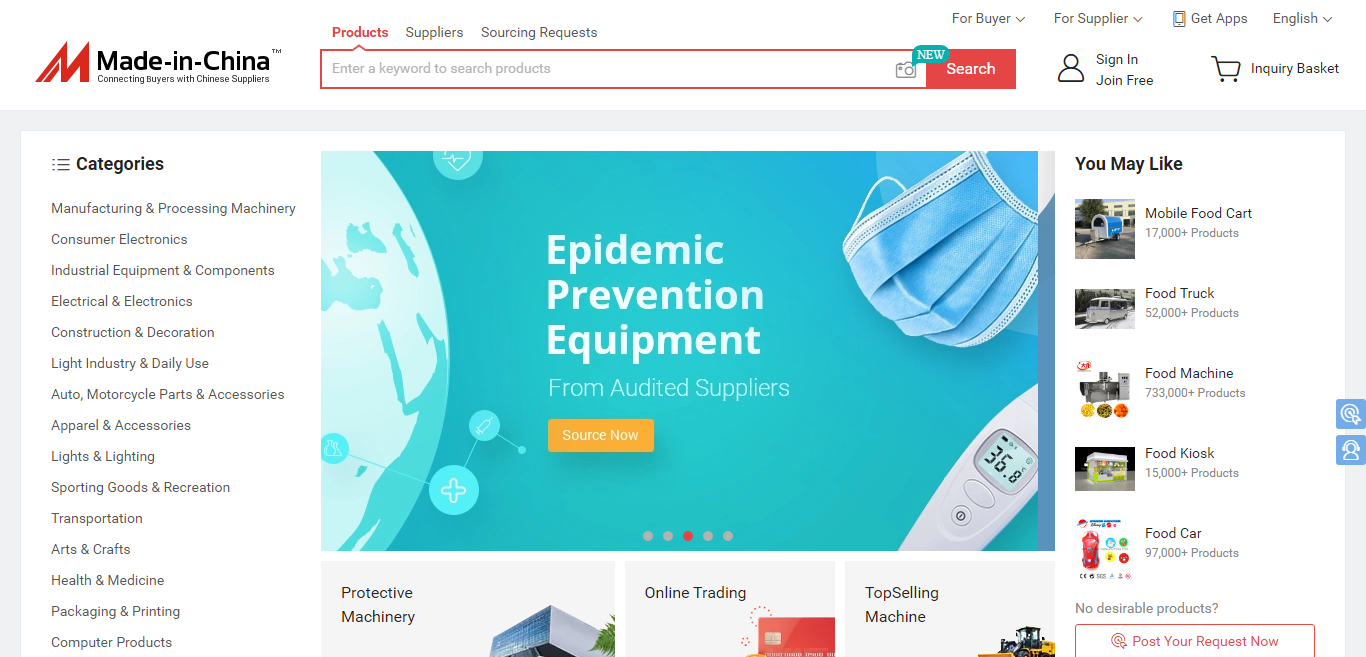 Website: https://www.made-in-china.com/
Made-in-China is another  Business-to-Business platform that was established in 1998. Since its inception, Made-in-China aims to transform trade worldwide. The platform has matured in e-commerce business after serving for the past 2 decades. They developed a strong quality control process, everything here will be original and high quality, nothing counterfeit.
Made-in-China has 27 categories and 3600 subcategories. The website can be viewed in 11 different languages for a better user experience. It contains any product that you could think of, that is, from vehicles to manufacturing plants, Made-in-China has all that you need.
Global Sources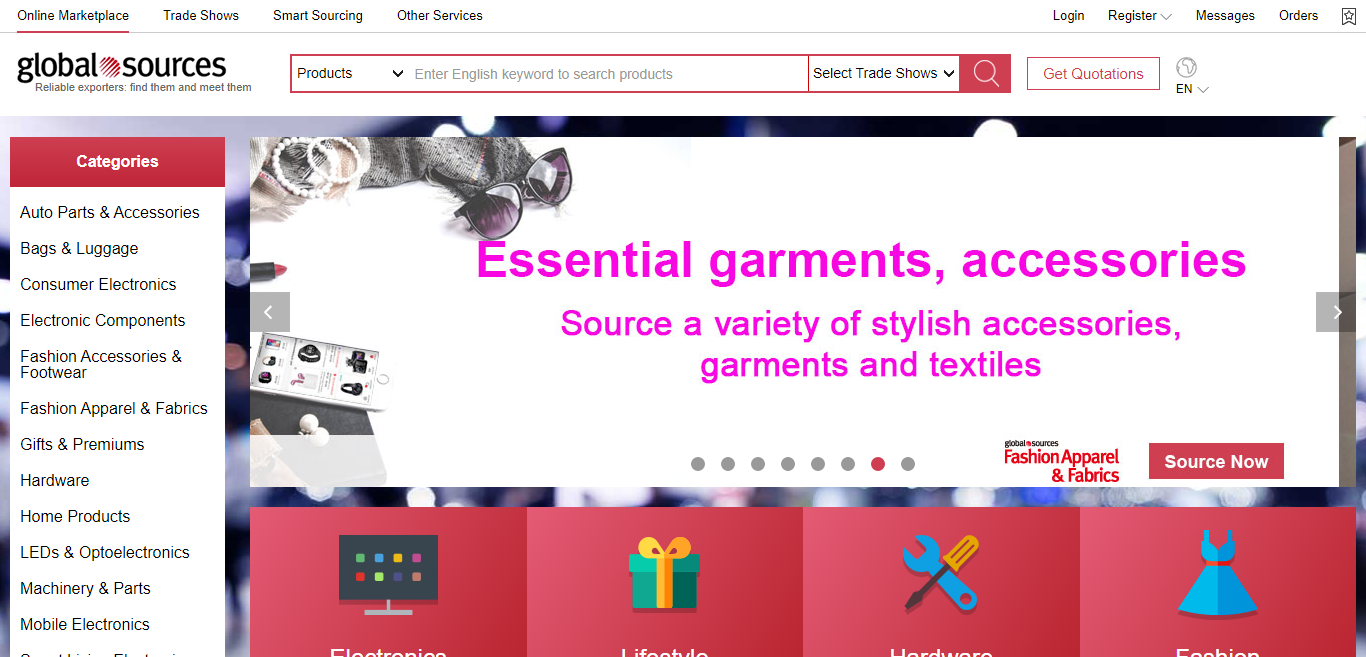 Website: https://www.globalsources.com/
Global Sources is another rival B2B supplier in China. The simple, clear and concise supplier and products catalogues make it easy to search for and find the type of "qualified" manufacturer you want to use.
The company has spent more than 49 years in the trade industry. It has acquired trust with 1.5 million active buyers worldwide. It's generating leads for retailers and can lead you to get buyers from over 240 countries.
There is professionalism in all fronts. And even if something happens where you need a refund, it's managed with a few easy steps. All you need is to follow the process in accordance with their website and meet the terms and conditions. You'll be comfortable buying at Global Sources.
DHgate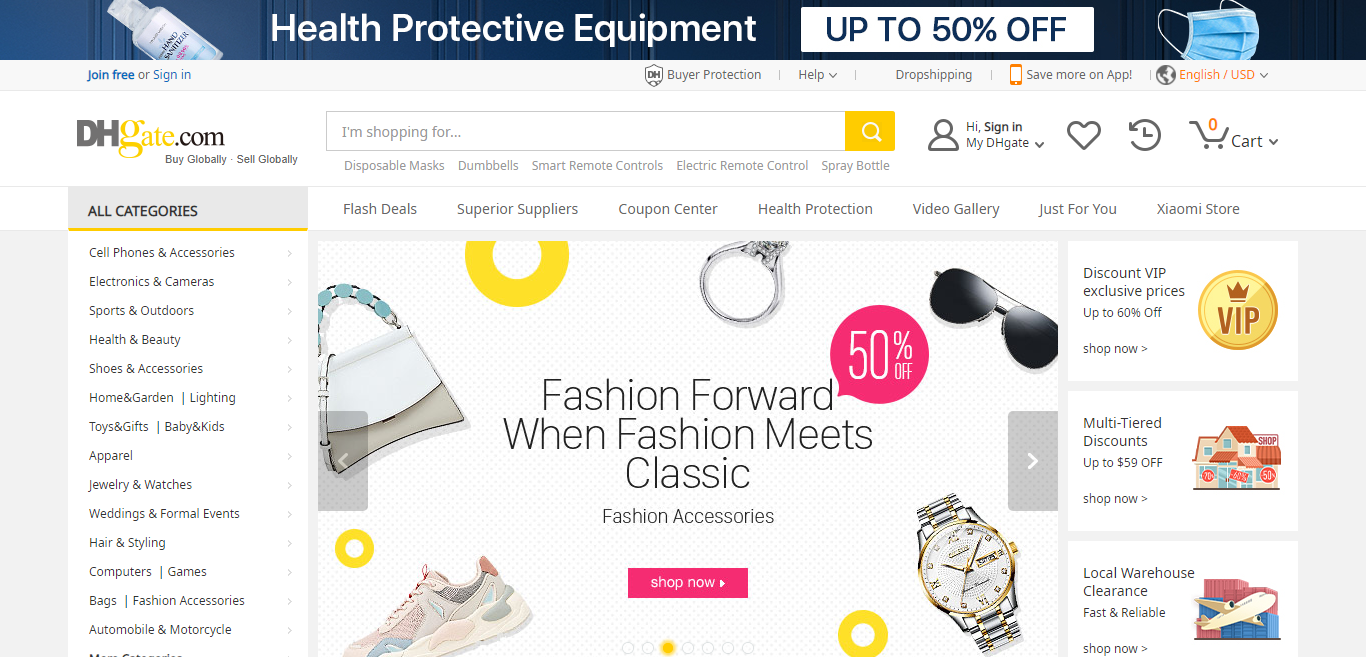 Website: www.DHgate.com
DHgate is another one of the best suppliers in China. It's a business-to-business global marketplace, which connects manufacturers from the whole of China with the rest of the world. According to DHgate, they have more than 30 million products from all the categories.
The prices reduce as you increase the amount of your order. Shipping is quite easy. You'll have your order delivered right to your warehouse, but the prices are higher. The shopping experience is safe.
If you face any issue during order placement, contact their sales agent. They will have your issues resolved. The sales team can also help you with refunds. Yet, some terms and conditions may apply. Eventually, you'll get a refund where it is appropriate and reasonable.
DHgate offers both an affiliate program and dropshipping by giving you a profit margin.
1688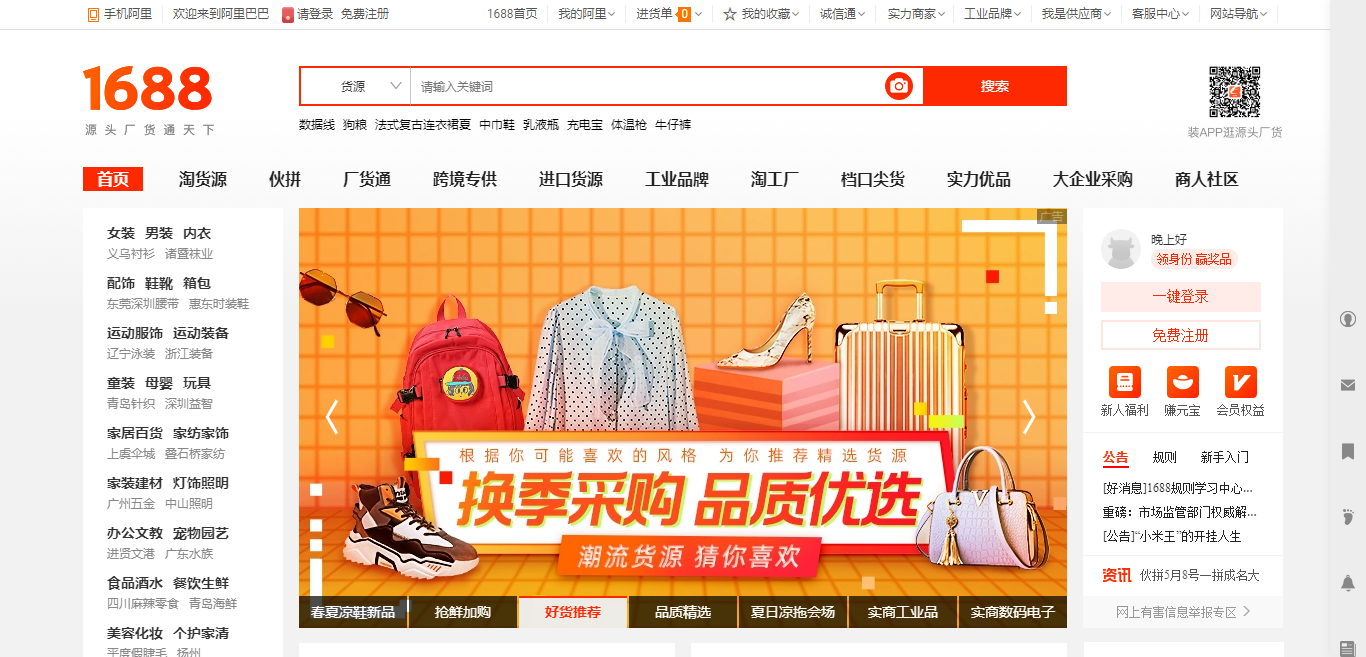 Website: www.1688.com
1688 is a subsidiary of Alibaba in China. 1688 is available in the Chinese language only. Also, it offers services for China's domestic market.  It supports the B2B, B2C, and wholesale products and dropshipping models. Many Chinese businesspeople prefer 1688 to find products. Other business owners are also showing interest because of the lower prices.
For buying products from 1688 you may need the help of a sourcing agent. These sourcing agents will help you through the process. As 1688 is in Chinese, so this will also save a lot of time.
Light in the Box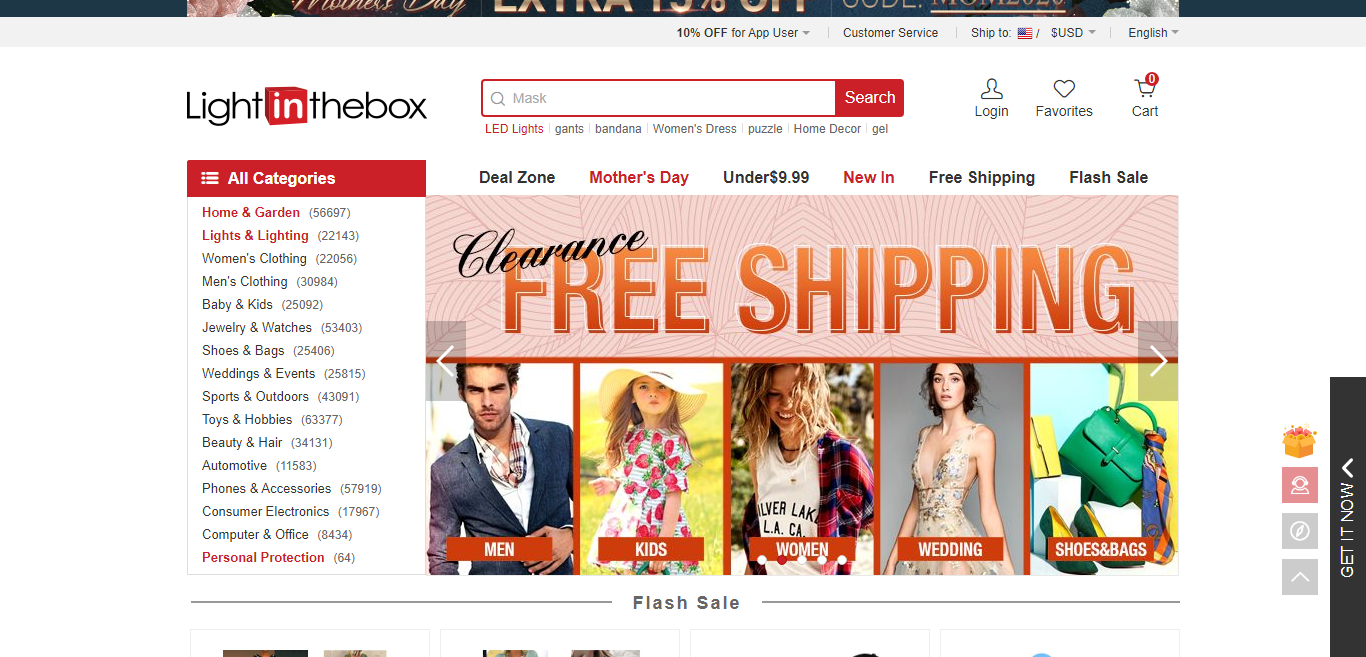 Website: https://www.lightinthebox.com/
Another Chinese online store, LightInTheBox has more than 1 million items to sell, which has almost everything we need ranging from clothing lines to small electronics to furniture to sports equipment and many more. These items are mainly spread out across its main website and its companion website, MiniInTheBox.
Similar to AliExpress, it ships to over 200 countries and regions and accepts all major payment methods, and uses major international couriers like UPS and FedEx. This is also a great potential website for dropshipping as many suppliers who sell in this marketplace accept dropshipping.
Banggood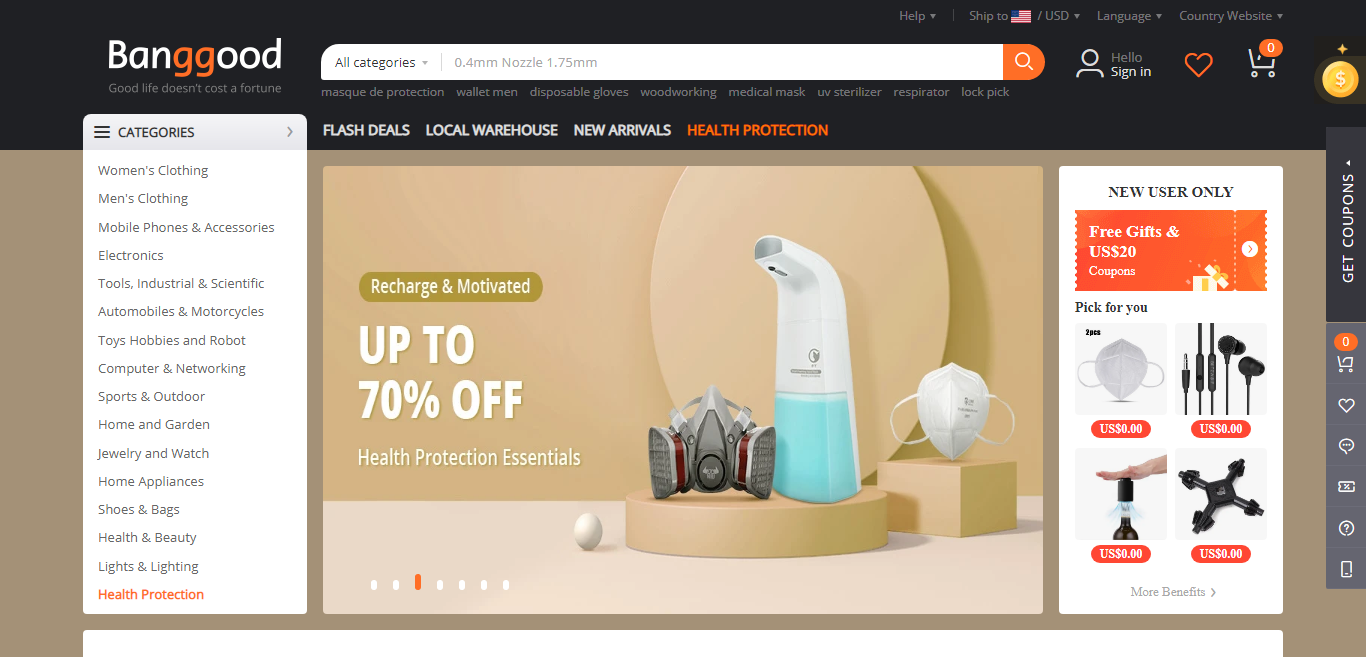 Website: www.banggood.com
Banggood is a Chinese e-commerce company founded in 2006 that offers retail goods. Its partnership programs also include wholesale, affiliate, and dropshipping. It offers competitive prices and low shipping fees on Chinese-manufactured goods of all sizes and dimensions.
Unlike some other direct-from-China retailers, there is never a minimum quantity required for anything that you order on Banggood. It also features several secure payment options, including PayPal. Their products are sourced from a network of trusted suppliers in 100+ regions of China to ensure only top quality products are offered.
Banggood has 37 overseas warehouses covering all regions of the world, this network allows you to order locally and receive your items lightning fast.
Banggood handles the order and you keep the margin between your sale price and the online price shown on Banggood. Also, there is no membership for the dropshipping program.
TomTop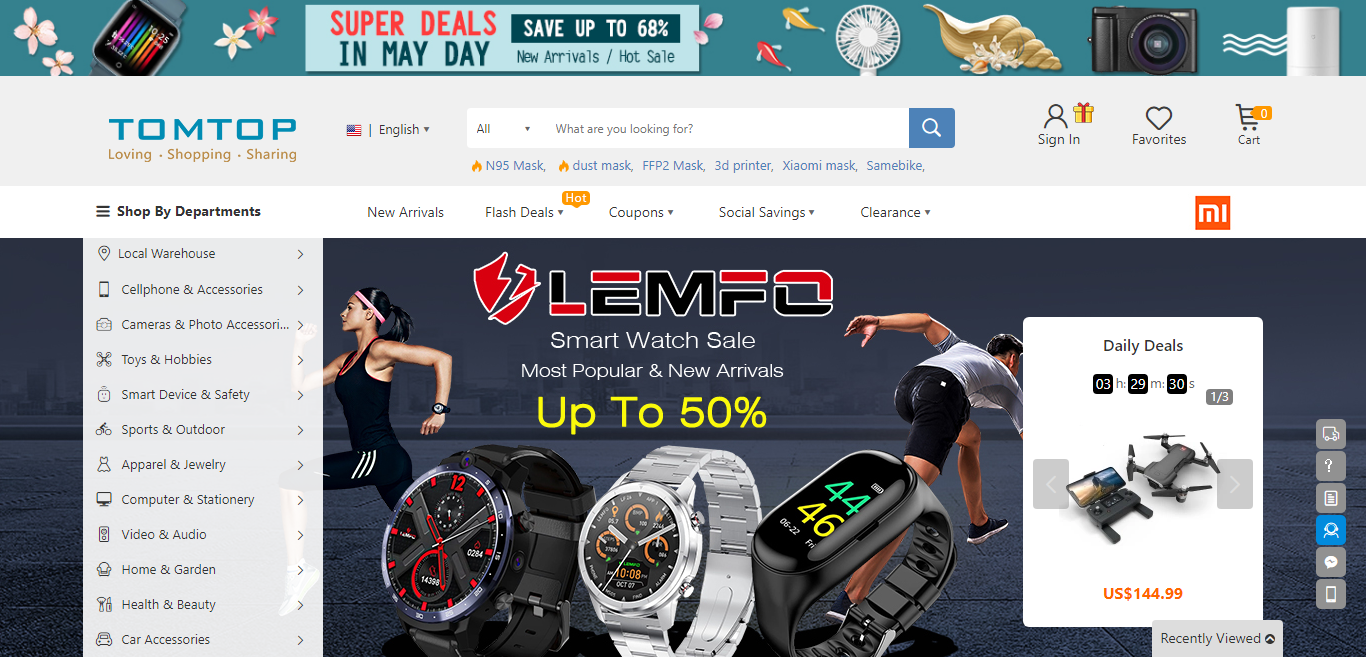 Website: www.tomtop.com
Tomtop is Chinese wholesale supplier established in 2004. It's a reliable wholesale and retail online shop with Diverse & High-Quality Products.
TomTop is one of the best-reviewed AliExpress alternatives on this list. Even the Alibaba Group, the parent company of AliExpress, recommends them because they are also a Gold-Supplier of Alibaba since 2006. They have plenty of promotions to save money, and they have a reputation for delivering orders exactly how they're supposed to be.
Quarkscm is an exclusive dropshipping website of Tomtop. It offers a large range of high-quality SKUs of all categories at a reasonable price. It has 7 global warehouses and 100+ shipping methods.
GeekBuying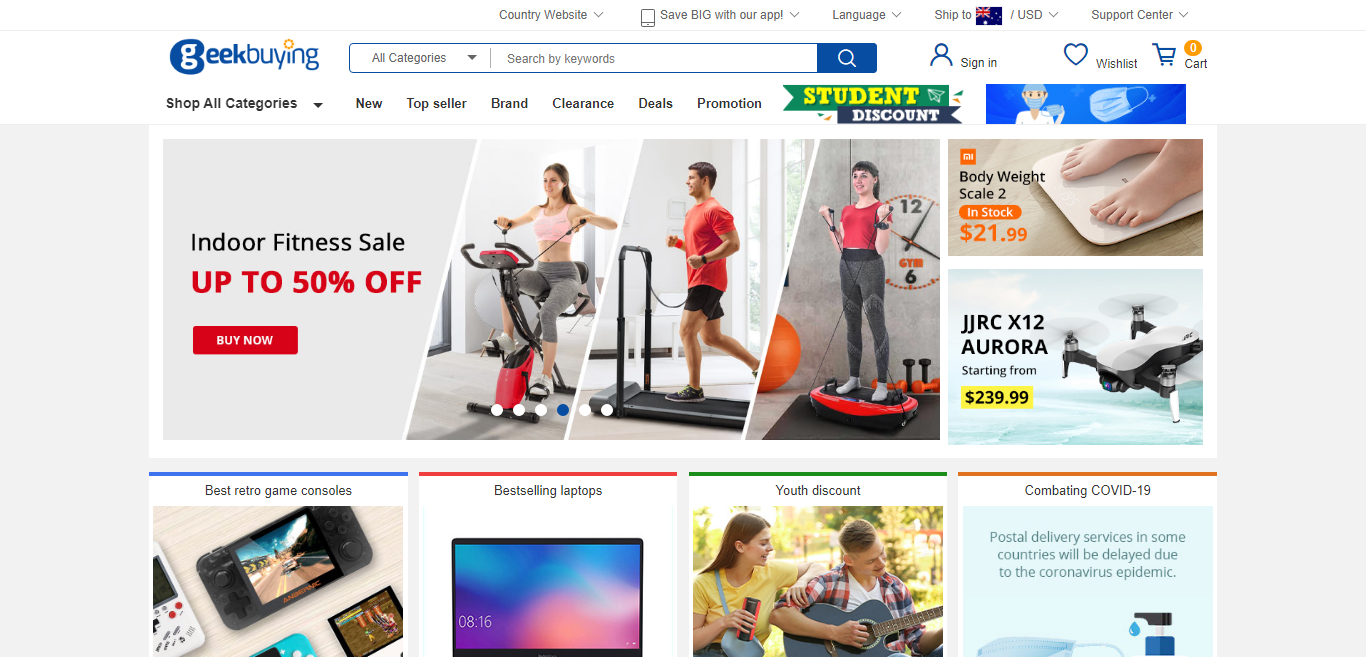 Website: www.geekbuying.com
Geekbuying was founded in 2012 and is a new wholesale dropshipping suppliers platform as compared to others in our list. Still, it has made its place in the competing market of e-commerce in Asia. Geekbuying specialises in electronics and associated accessories but also features jewellery, home furnishings, and sports equipment.
Geekbuying also offers dropshipping opportunity and allows you to sell all the items to your customers as your own. There is no branding or pricing on the items or the packaging. Furthermore, if you shop above $5,000 becoming an elite member you will get up to 5% extra discount on the products you sell.
DealExtreme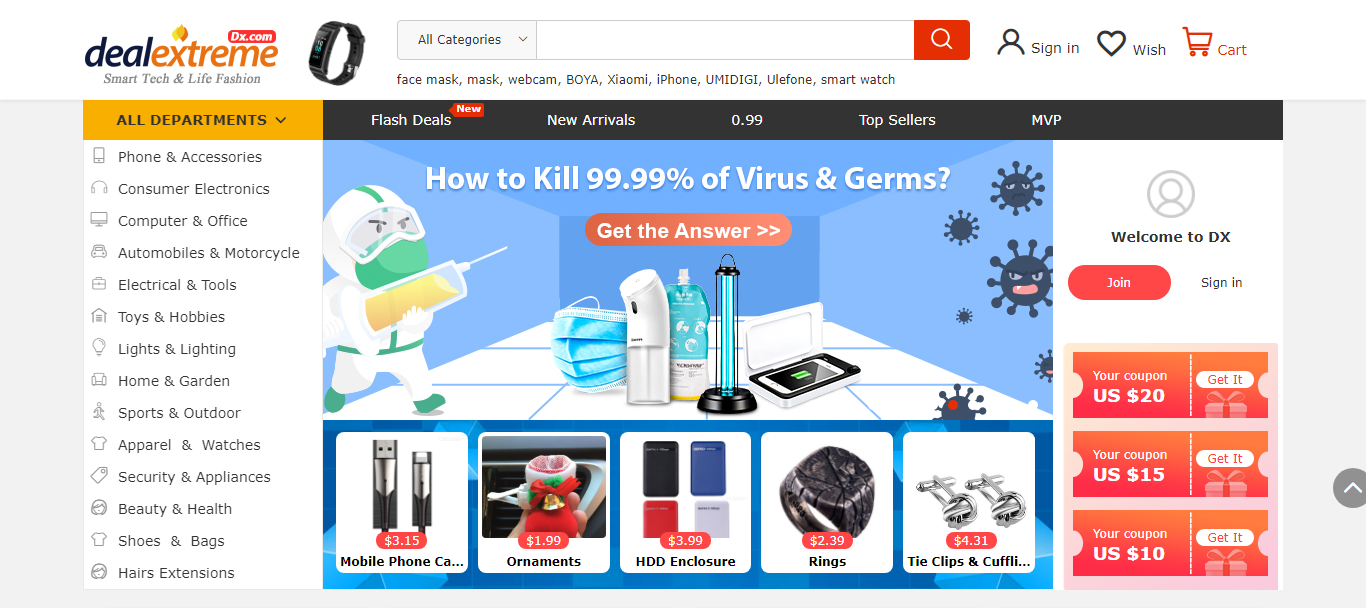 Website: www.dx.com
DealExtreme was established in 2005, and it continues to be a preeminent retailer today with over 1 million customers and 5,000 suppliers. DealExtreme is famous for its electronics and related gadgets though it also sells products like clothing, toys and accessories.
It offers worldwide shipping to more than 220 countries and most of the products have no shipping charges if over $20. It also has a community forum where you can view full product reviews and get help with any questions or problems you may have.
DealExtreme offer an affiliate marketing program and dropshipping. For dropshipping with DealExtreme there is no need for a special dropshipping login, its regular account will work the same.
Last Words
Bottom line – finding a dropshipping wholesale supplier can be very difficult in Asia because of its diverse and vast nature. However, from these top 10 suppliers, you can simply find anything that you are looking for at a reasonable price. If you need products for dropshipping, order from any of the above wholesale suppliers for maximum profits. Large discounts and fast shipping are some things we hope you'll enjoy with them.
Asia being the largest continent, it has many opportunities for your business to flourish with dropshipping. Only you have to follow and understand the consumer behaviour of your target audience and address them accordingly.