Overview
E-commerce fraud is an escalating risk for online sellers, and it's growing at twice the rate of e-commerce sales. Online sellers increasingly have been suffering more from chargeback fraud, which requires them to absorb the costs of disputed credit card transactions.
One of the most common illustrations of chargebacks is when a purchase has supposedly been made by a customer, but it's actually a criminal who has entered another person's payment credentials. In this scenario, the victim whose bank card has been used for the fraudulent transactions will file a claim to have the illegally withdrawn funds returned. When this happens, the bank initiates chargebacks to retailers after receiving documentation from cardholders that the specific transactions were fraudulent. In addition to the reversal of fraudulent payments, online merchants are charged an additional fee by their own payment providers.
The Official WooCommerce Anti-Fraud Plugin can be installed for avoiding and identifying preventing these issues.
How Does it Work?
WooCommerce Anti-Fraud comes with default settings. However, you can also customise it according to your needs. After installation and activation of the plugin, for every WooCommerce order you will see graphical and detailed description showing information about any detected risk factors.
The plugin has three settings under the Anti Fraud tab in the WooCommerce setting Menu.
⦁ General Settings (Related to 12 features)
⦁ Blacklist Settings (Blocks high-risk email addresses)
⦁ PayPal Settings (PayPal verification settings)

You will be notified about every check performed by Anti Fraud to your preferred email address when this box is checked. If you're not seeing the messages, check your spam folder.

What are the key features of Anti-Fraud?
Anti Fraud protects you from chargebacks and fraudulent activities in a very comprehensive manner. Let's talk about all the key features of Anti Fraud that can help prevent fraud on your WooCommerce store.
Easy Risk Check for Orders
You can easily check the potential risk the orders with corresponding colours. Orders with elevated risks are highlighted in three primary colours. Fraudulent or high-risk orders are flagged in red. Review or medium-risk orders are flagged in orange. While low-risk orders are marked as green.

Low-risk is by default the score less than 25.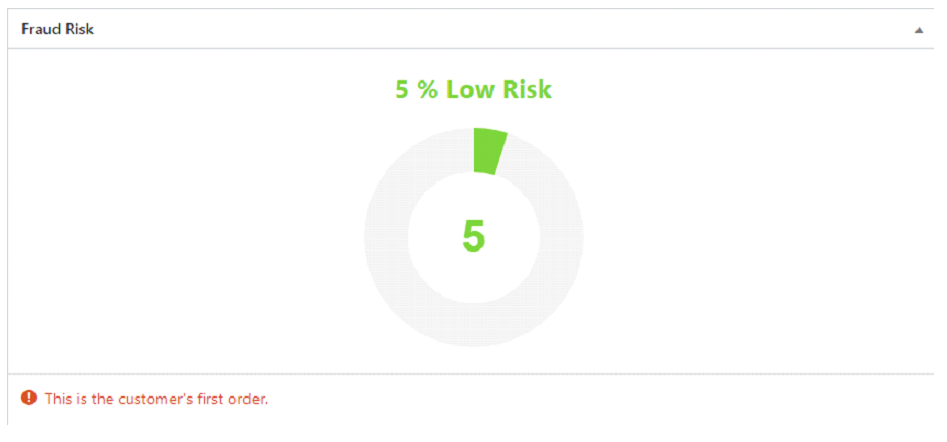 Medium-risk is by default less than 75 but greater than or equal to 25.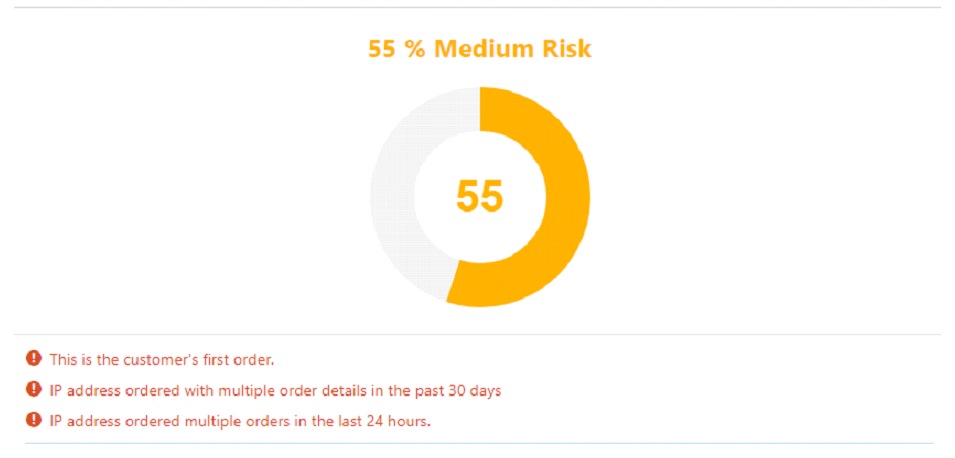 High-Risk is any score greater than or equal to 75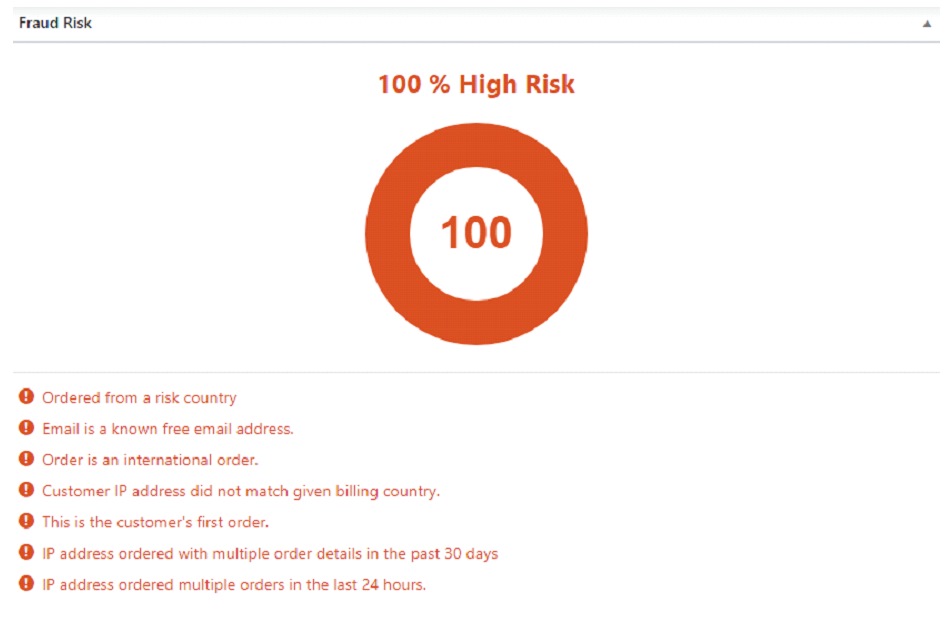 These can be changed by changing these thresholds

Control Orders by Customisable Scoring system
WooCommerce Anti-fraud has a pre-configured scoring system, which changes the status of the order according to the risk score achieved.
In the pre-configured anti-fraud plugin, orders with scores equal to or greater than 90 will be automatically cancelled and represented as Cancel Score. Scores between 70 and 89, will be marked as "On Hold" and the order will be paused. Anti-fraud will notify you about the status of the order via email when a fraud risk score is 50 or above. These are the default settings and can be customised in the plugin's options. This allows you to toggle notifications or change when an order is paused or cancelled.

Detect if an order is the customer's first order
When a new customer buys from your store, Anti Fraud will notify you about the customer with a default weighting of 5 (this is customisable as well). This tool is very useful in the long run for store owners for providing better customer service. It's also very helpful in analysing the fraud in combination with other sets of rules.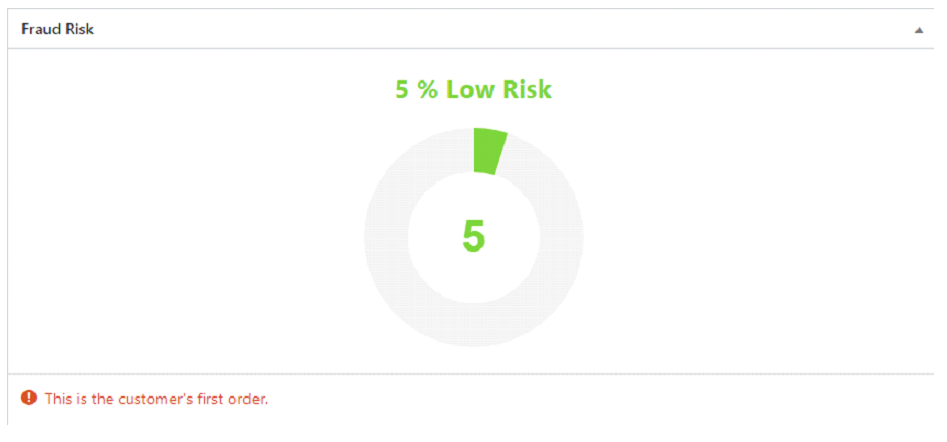 IP Geolocation Check
The IP Geolocation Check lets you know whether the order placed is an International order or not by comparing the IP location with your WooCommerce store address. This also identifies repetitive customer or multi-buying from the same IP address. The geolocation check is one of the key indicators to assess fraudulence of the order, in combination with other features Anti Fraud's comprehensively designed rules-based system.

Billing and Shipping Address Verification
One data point that is commonly used by online sellers to assess if a purchase is fraudulent or valid is if the billing and shipping addresses match. Sellers check for this because a mismatch of the two addresses could mean that there is a true fraudster attempting to purchase on the site with stolen credit card credentials. On the other hand, it may be an honest customer just trying to make a purchase.
The Anti Fraud rules-based system in combination with all other related features assess the possible risk and identify its users in a graphical form. Billing and Shipping address check weighting is 20 by default and it's totally customisable.

Proxy Detection
Proxies are commonly used in e-commerce fraud to mask a fraudster's real IP address. The Anti Fraud proxy check will detect if the seller is using a proxy for buying from your store. Its sophisticated rules-based validation system will accurately detect the fraud patterns to help you to minimise chargebacks and fraud losses. Default weighting of this rule is 50, but you can customise this rule according to your requirements.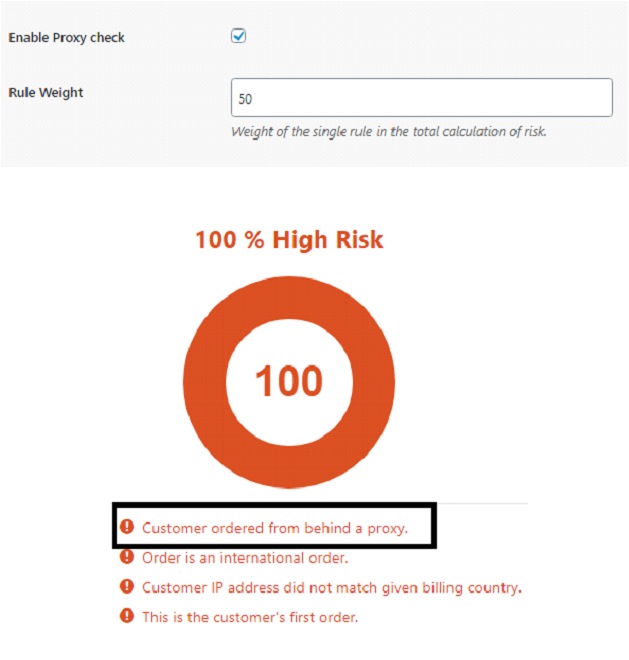 Detect Suspicious Email Domains
The Anti Fraud plugin also offers a suspicious email domain feature. It's the best feature to identify fraudulent email addresses. Especially if you're a B2B seller it's the must-have option for your store. This service is customisable, you can add as many domains as you wish. By default, the Anti Fraud plugin provides 67 public email domains that are commonly associated with fraud.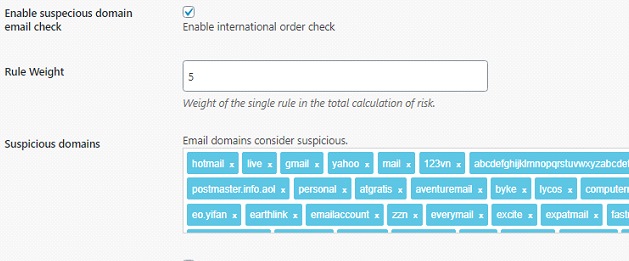 Define Unsafe Countries for your Business
With this feature, you can define unsafe countries where you don't do business. You can select as many countries as you want by simply holding down the Ctrl or Command key. The pre-configured rule weighting is 25, but you can customise it according to your needs.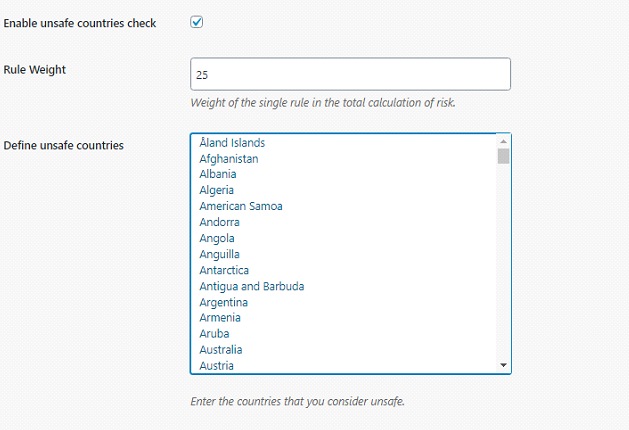 Order Amount Check
Anti Fraud has the following 3 methods to check the order amount for fraudulent activities:
⦁ Quantity
⦁ Price
⦁ Time Span
In the e-commerce business, these 3 features are important for assessment. If someone orders a higher quantity, buying more than the normal, or have bought more than once within a short time span, it is a reason for concern. The Anti Fraud plugin rules-based system assesses through these features and changes the status of the order to on-hold or cancelled depending on the risk factor involved.

Order Amount weighting by Quantity and Amount are 15 and 5 respectively. We recommend setting both according to the nature of your online store. These features significantly help in preventing chargebacks and frauds.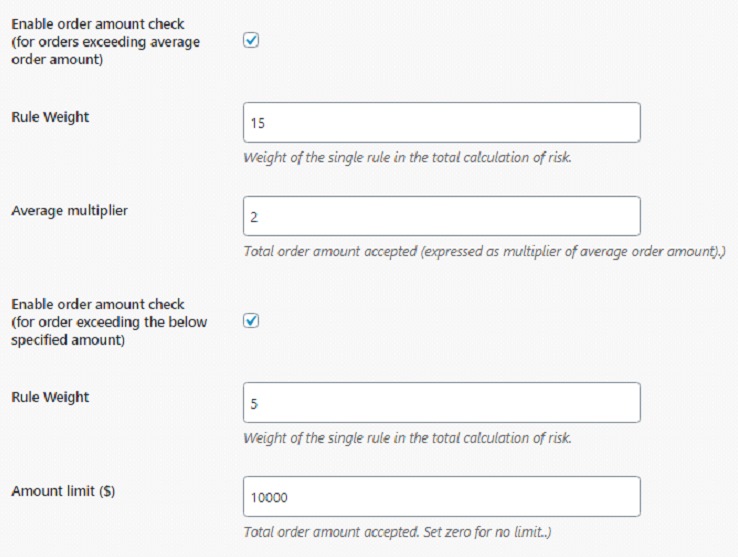 Multiple Order Amount by Time Span allows the online storekeeper to identify that the activity is fraudulent and could end up as chargeback fraud. That's why it's an important part of the WooCommerce Anti Fraud rules-based system.
We also recommend that the time span and quantity is set according to the nature of your business as it varies from business to business for the efficient running of the plugin.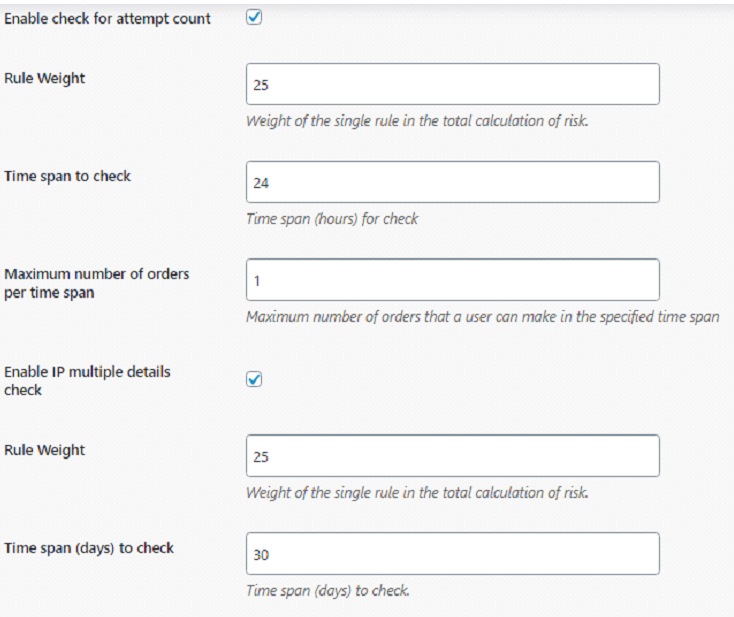 Automatic E-mail Blacklist feature
The Email Blacklist feature is a unique feature of the Anti Fraud WooCommerce plugin, which automatically adds the email address in a blacklist when it receives a high-risk report. You can also add an email address into the blacklist manually simply by typing it into the "Block these email addresses" tab in Blacklist settings. When the blacklisted email holder tries to log in on your store site again, the following message will be shown to the email holder at site end.

Both the tabs "Enable email blacklist" and "Enable automatic blacklisting" must be checked to make the Blacklist work properly.

Anti Fraud PayPal Settings
This feature of Anti Fraud prevents the customer as well as the seller from fraudulent activities. By checking the 'Enable PayPal Verification' tab, an email is sent to the PayPal email address if their account is non-verified.
In addition, if the 'Prevent downloads if verification failed or still processing' tab is checked with the default time span, the order will not process until the user verifies their account. And if the verification of PayPal account crosses the time span mentioned the order will be cancelled automatically.
Wrap Up
This Anti Fraud Plugin is a complete solution to avoid chargebacks and fraudulent orders. The WooCommerce Anti Fraud plugin is plug-and-play for most the sellers, but some might need a little bit of change to make it work with their requirements. This plugin is the best solution for high-risk industries. It's practical for both low and high ticket items.
The Official WooCommerce Anti Fraud plugin will reduce or eliminate your chargeback costs. It will also increase the efficiency of managing orders by streamlining your order processing with instant decisions and eliminating review queue bottlenecks during busy season.
The Anti Fraud plugin is available to purchase here on the WooCommerce website and comes with a 30-day money-back guarantee.